WARNING: GRAPHIC DESCRIPTIONS OF HOMOSEXUAL PERVERSIONS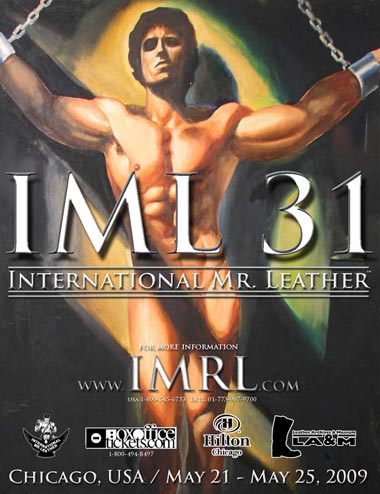 Hilton Profits Off Perversion: this weekend the Hilton Chicago hotel  hosts the deviant-sex-fest known as "International Mr. Leather" (IML). Given the grotesque and unhealthy behaviors that are practiced by IML attendees — including "fisting" (a "very popular practice among more evolved (kinky) gays": Urban Dictionary) and "watersports" — we advise that people concerned about hygiene should avoid these hotels. TAKE ACTION:  Write or call Hilton Hotels (World HQ: 310-278-4321 or 800-445-8667) and tell them that due to their commitment to making big money off one of the most heinous, pornographic, deviant-sex celebrations known to mankind, you will take your consumer dollars elsewhere.
By Peter LaBarbera
Memorial Day is right around the corner (May 25th), and in Chicago that can only mean homosexual "leathermen" by the thousands taking over the Chicago Hilton Hotel for the annual twisted sadomasochistic perversion-fest known as "International Mr. Leather" (2009 logo at left). Every year, Hilton Hotels profits off of this unbelievably debauched event — as either the Chicago Hilton or the historic Palmer House Hilton hosts it. Pornographic vendors by the dozens hawk hard-core pornography in the "leather market" vendor area that runs parallel to IML.
You can read our previous photo-stories about IML HERE and HERE. Every year, Americans For Truth reminds our readers of how incredibly vile this "gay" event is, and every year homosexual activists play "Kill the Messenger" by alleging that this writer is a secret "leatherman" himself. Baseless, ad hominem attacks are apparently the last refuge of proud, pro-perversion propagandists.
Here is what a prominent homosexualist website, Gay.com, says about IML and sadomasochism in its piece, "The Read Truth about the Leather Community":
IML provides an opportunity to look at why people like leather/kink. Some of the basic reasons people are involved in the leather community include:

…Leather is about politics
The leather community is about radical celebration of our sexuality. Much like Stonewall and the drag community was a political statement, so too the leather community is a visible confrontation to the straight community about gay sexuality. It is a sex affirming, public statement in a world that shames and shuns sexuality.
I don't know what planet this fellow is from — does America "shun sexuality"? Hardly. This is one of the most sex-obsessed cultures on earth. So what he really means is that some of us, still, "shun" homosexuality — that is, we regard same-sex sexual behavior as sinful and shameful.
But not the leathermen. Their movement is gaining adherents in the straight world and is in the vanguard of the ongoing Sexual Revolution — declaring "Leather Pride" (their version of "gay pride") in behaviors that are almost incomprehensibly evil. You'll have to look up these vile acts using the Urban Dictionary links, but here is what one "regular and longtime IML attendee" named Jeff says about "International Mr. Leather" (in a book by Joseph Bean titled, "International Mr. Leather: 25 Years of Champions"):
I travel a great deal and have experienced most of the large leather events that are produced to entertain, excite, and enthrall the participants. None of them hold a candle to IML. There is a spark; a warmth; a flame that ignites all who experience the event. It does not matter if one is a "sash queen," "muscle monster," "super sadist,'"or "pigboy," If you are into [f—k–g], fisting, felching, fruitcakes, feathers or fish you can feel welcome and find your favorite fetish represented here.
Jeff goes on to say:
The staffs of most of these hotels [Congress, Hyatt, the Palmer House — each of which has hosted IML in Chicago in past years] also are a constant surprise. In the most decrepit of the hotels, the staff oftentimes overreacted to the sexual and flamboyant goings-on. In the most sophisticated of the hotels, the staff oftentimes joined in.
One wonders if the staff at Hilton Chicago will be "joining in" on the perversions, since the hotel and its owners have obviously made an accommodation with the extremely debauched behaviors that they will allow to take place on their premises. (This includes the sale of the the sickest, hard-core homosexual and "fetish" porn on earth in the Leather Market, as we documented last year when IML was held at the Hyatt Regency.)
There is another facet to IML that saddens the heart of Christians: these are men that have declared their own way — their own "truth" based on a lie — apart from God and completely rejecting cultural and Christian norms. They delude themselves that in their faux, deviant "masculinity." Gay.com writes:
Leather sex is about masculinity
The images evoked by the term "Leatherman" reflect a celebration and recognition of the masculine. In many cases, the celebration of the classic male symbols is a rejection of the stereotypes of what a "gay guy" is about.
And here you see the uncanny ability of the homosexual movement to flip good and evil, and normalcy and deviance, on their heads. There is nothing "masculine" in two men having sex with each other — in fact it is the polar opposite. It's about as "masculine" as a butch lesbian pretending to be the "man" in the relationship. Real men don't have "sex" with other men. Who cannot not see the pathetic overcompensation of these men with their bare-butt leather pants, chains, whips and "tough-guy" macho-veneer?
Perhaps deep down their rejection of femmy homosexuality is a recognition of the shame of male-on-male sex in general. But rather than turn from it, they have embraced another, "tougher" version of the same sexual sin. In doing so, they throw up the white flag and give up on one of life's great challenges — finding a mate, getting married, raising children and ushering in a new generation.
None of it is true, no matter how much twisted pleasure is had by the "kinky" IML attendees. There is a way that seems right to a man, but in the end it leads to death (Proverbs 14:12).
Maybe there's a leatherman or two or 10 among the IML crowd who sees the shallowness and shame of it all, who senses that conforming to the deviant world of homosexual S&M, and giving oneself over to shameful perversions in the guise of liberation and pseudo-masculine camaraderie — is nothing but a house built on sand.
Christ is a better way. Humble yourself and repent to Him — and walk away from this dishonoring spectacle. He will forgive you and set you on a better course. To the reprobate men assembled at IML in the Hilton Chicago I say: there IS a heaven and a hell, and I can assure you that you will not enjoy the punishment of the latter. Learn more about the Gospel of Jesus Christ HERE.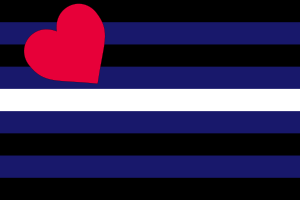 "Leather Pride" flag for sadomasochists shows how far men will go to justify their sin.