Would Smarty Pants Lesbian U. be required to endorse an ex-gay evangelical campus club?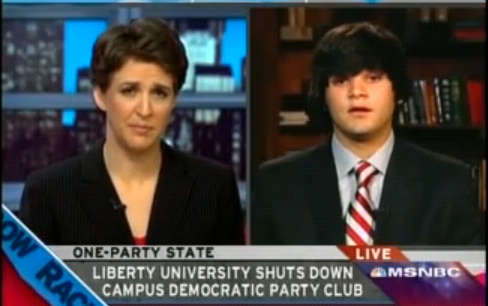 If Rachel Maddow were to form Smarty Pants Lesbian University (SPLU), would it be forced to recognize a Christian ex-"gay" student club? At left, the openly lesbian MSNBC talker interviews Brian Diaz, head of a student Democratic club that was denied recognition by Liberty University. See YouTube video at bottom of this story.
By Peter LaBarbera
Nobody has mastered the art of snide inflections and biased liberal hit "journalism" as quickly and masterfully as MSNBC's resident smarty-pants lesbian talker, Rachel Maddow (see this lesbian site's story). Check out Maddow's exaggerated pronunciation of "LGBT" in the YouTube video below as she attempts to skewer Liberty University for banning a campus Democratic Club. (Read the Democratic Party Platform HERE.) Now, at the risk of not knowing my place at the back of the bus as an Idiot Evangelical in Maddow's World, I'd like to help her understand the principle of American liberty at stake in this case:
Let's say for the sake of argument that the mannish Maddow and her female partner established the Smarty Pants Lesbian Liberal Party (SPLLP) for the purpose of mobilizing snarky lesbians and liberal fellow travelers to influence government and culture. Furthermore, the determined duo also create (with a Tim Gill financial assist) Smarty Pants Lesbian University (SPLU) to train up annual cadres of mini-Maddows to permeate the media and other culture-influencing institutions. (We're not sure if non-lesbian feminists or males would be admitted to SPLU.)
Now, here's our questions for Ms. Maddow: let's say a covert SPLLP member were to trick her way past Liberty U.'s faith-based admission process, become a Liberty student and then suddenly apply for recognition of her SPLLP club on campus. (I envision a special appearance on MSNBC and sympathetic interviews in all the liberal media.) Would Liberty U.  be obligated to recognize the Smarty Pants Lesbian Party? Of course not — it would impinge upon and undermine Liberty's right to propagate its own belief system to students. In fact, Liberty would be within its rights to expel the troublemaking student, at the risk of making her even a bigger star in Maddow's World.
In the same vein, take a lesbian student who finds Christ at Maddow's Smarty Pants Lesbian U. (someone smuggled a Bible to her inside a lesbian magazine). The reborn, ex-"gay" woman now desires to form an Ex-Lesbians for Christ Club (ELCC) on campus. Would Maddow and Smarty Pants Lesbian U. be required to recognize the evangelical, homosexuality-opposing Christian club? Certainly not. That would violate their right to propagate their bitter, snide, left-wing, pro-homosexual, Christian- and Republican-hating ideology — thus jeopardizing their master-plan to spawn Rachel Maddow clones across America! And yes, Smarty Pants U. would be within its rights to expel the righteous former lesbian.
Young Democrat Club president Brian Diaz does not understand the difference between liberty and (state-enforced) egalitarianism ("I think that you should definitely be equal and show both sides of the issue equally," he tells Maddow). Apparently Liberty University accepts federal student aid and loan dollars (as Maddow mentions on air) but if that ultimately translates into being forced to accept groups like the Democratic Club that defy its foundational Christian beliefs, then we believe it would be time to refuse federal monies — like Hillsdale College does — for the sake of freedom. Now watch the Rachel Maddow video (conservatives: brace yourselves):
This article was posted on Saturday, May 23rd, 2009 at 10:15 am and is filed under
Academic Freedom
,
Democrat Party
,
Evangelicals
,
Freedom Under Fire
,
Lesbianism
,
MSNBC
,
News
,
Rachel Maddow
,
YouTube videos
. You can follow any updates to this article through the
RSS 2.0
feed.