GLSEN founder who presided over 'Fistgate' scandal; Jennings' group has corrupted and endangered students by exposing them to "queer" perversions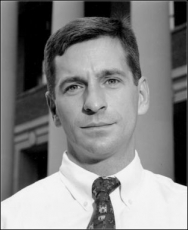 News Release, Americans for Truth About Homosexuality
June 1, 2009; contact: Peter LaBarbera: (630)717-7631
Suburban CHICAGO, Ill. – Americans For Truth About Homosexuality (AFTAH) President Peter LaBarbera today urged President Obama and Education Secretary Arne Duncan to withdraw the nomination of longtime homosexual activist Kevin Jennings as Assistant Deputy Secretary for the Department of Education's Office of Safe & Drug Free Schools, due to Jennings' vicious anti-religious bigotry and his role with an extremist homosexual group that has recklessly endangered youth.
Jennings, the founder of the Gay, Lesbian, Straight Education Network (GLSEN), presided over the 2000 Boston "Fistgate" scandal in which homosexual adults – at a GLSEN-sponsored youth workshop on "Queer Sex & Sexuality" — guided young teenagers on how to engage in perversions including the horrifying "gay" fetish known as "fisting," in which a man inserts his arm up the anal cavity of another man.
(GLSEN and Jennings never issued an apology for "Fistgate," but instead criticized Scott Whiteman, the parent who secretly taped it, for violating the students' privacy. Americans For Truth's LaBarbera had advised Whiteman to tape the workshop to prove to skeptics that GLSEN's brand of recklessness involving young people actually occurs. Later, a Boston homosexual group sued Whiteman and MassResistance founder Brian Camenker to block the release of the Fistgate tape.)
"Kevin Jennings is one of the most hateful, anti-Christian 'queer' activists in America: he even said '[F—k] 'em' and 'Drop dead!" to religious conservatives — while speaking at a church, of all places," LaBarbera said. "Jennings should have been drummed out of public policy years ago for GLSEN's role in the awful Fistgate scandal that corrupted Boston youth," LaBarbera said, "but instead the GLSEN founder is now being elevated to one of the most important roles in U.S. education policy.
"Barack Obama's homosexual agenda is beginning to take shape – but he has no election mandate to impose GLSEN's radical vision of celebrating homosexuality, bisexuality and gender confusion (transsexuality) in U.S. schools," LaBarbera said. "Anti-religious bigots should not be setting policy for schools — and promoting dangerous sex and gender identities to youth is the antithesis of 'safety.' (Men who have sex with other men (MSM) suffer from much higher rates of sexual diseases – including anal cancer, HIV, syphilis, and gonorrhea — than non-MSMs.)
He added that GLSEN's 'Safe Schools' strategy "is a Trojan Horse designed to advance the normalization of harmful behaviors to impressionable children."
"Americans For Truth will educate Americans on Jennings' and GLSEN's dangerous agenda, and we will work with other pro-family and parental rights groups across the country – and Obama voters who oppose pro-homosexual indoctrination in schools – to urge that the Jennings appointment be withdrawn," LaBarbera said.
This article was posted on Monday, June 1st, 2009 at 2:01 pm and is filed under
Boards, Administrators, Teachers, Counselors
,
Bullying & Victimhood
,
GLBTQ Targeting Youth and Schools
,
GLSEN
,
Government Promotion
,
Health & Science
,
News
,
Physical Health
,
Tolerance?
. You can follow any updates to this article through the
RSS 2.0
feed.