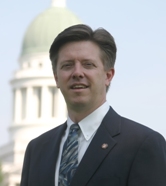 Mike Heath, Executive Director of the Maine Family Policy Council, has issued the following statement about the successful effort to gather signatures for the people's veto on same sex marriage.
Contact: Mike Heath (207) 622-7634
The Maine Family Policy Council welcomes the news that enough signatures have been gathered for a people's veto of same sex marriage in November.  The MFPC extends its humble thanks to the people of Maine, and in particular to those friends and supporters who signed the petition, or helped gather signatures.
Ours is a system of government in which the people are sovereign. The collective wisdom of the people, added to the sound common sense of those who remain faithful to God's laws, ensures that we will ultimately win the battle for marriage and the family.
The MFPC calls on the people of Maine to be mindful of the fact that the idea of same sex "marriage"is promoted by a vocal minority which seeks to impose a view of  human sexuality which is contrary to reason, and is profoundly harmful both to individuals and to society.  The homosexual rights lobby seeks to implement this view of sexuality throughout every part of society, from every kindergarten and elementary school, to every carpenter shop, factory, and law office.
If the people of Maine do not make a concerted effort to resist the imposition of this profoundly immoral and evil doctrine, a perverted notion of human sexuality will be enforced through civil lawsuits; and if homosexual activists have their way, through fines and/or imprisonment. Thus, the debate over same sex marriage is not merely a matter of sexual morality and ethics, it is a matter of freedom of conscience.
The vote in November will be a culmination of a twenty-year effort to protect the family, an effort in which the Christian Civic League of Maine/Maine Family Policy Council has played the predominant role. We will continue to stand by the people of Maine in their effort to defend marriage and the family, and together we will win the victory.
This article was posted on Thursday, July 9th, 2009 at 9:22 pm and is filed under
"Civil Unions" & "Gay Marriage"
,
"Civil Unions" & "Gay Marriage"
,
A - What does the Bible say about homosexuality?
,
Biblical Truth
,
Maine
,
News
,
Sexual Revolution
,
The Bible, Churches, & Homosexuality
. You can follow any updates to this article through the
RSS 2.0
feed.