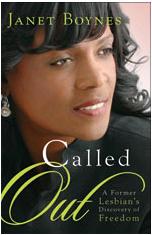 ALA Bias Denies Kids the Truth about Change: Don't expect to find ex-lesbian Janet Boynes' book, "Called Out: A Former Lesbian's Discovery of Freedom," in your local public library. But you might want to purchase a copy and donate it to your library. If you do so, try gauging the imbalance on homosexuality resources in the library. In many libraries, there are many homosexuality-affirming books and few on the other side. To read more on Boynes, go HERE; visit her website HERE.
The following news release is by PFOX (Parents and Friends of Ex-Gays and Gays):
August 10, 2009
News Advisory:  August 10, 2009
Contact:  Regina Griggs, Executive Director, Parents and Friends of Ex-Gays & Gays (PFOX), 804-453-4737, [email protected]
American Library Association Asked to Condemn Banning of Ex-Gay Books
West Bend, WI — Despite public opposition, the West Bend Community Memorial Library continues to stock gay books for children and teens while neglecting books by ex-gay authors.
Many of the gay books promote homosexual behavior to youth and are the subject of protests by concerned parents, whose request to have the books moved to the adult section were denied.
"Our requests that the Library balance some of its homosexual material for children with material written by ex-gays or with a heterosexual slant have been ignored," said Regina Griggs, executive director of Parents and Friends of Ex-Gays & Gays (PFOX).
"Apparently, the West Bend Community Memorial Library is not interested in diversity," said Griggs.  "We urge Michael Tyree, the library's director, to be inclusive of the ex-gay community and accept our donation of ex-gay books.  According to its own policy, the Library has a 'professional responsibility to be inclusive, not exclusive, in developing collections.'"
"For a library to provide children's books which promote homosexuality while denying ex-gay books smacks of censorship and indoctrination of youth with a one-sided ideology," said Griggs.
"It is also contrary to the American Library Association's policy against book banning and censorship in any form," said Griggs.  "We call upon Deborah Caldwell-Stone, acting director of the American Library Association's Office for Intellectual Freedom, to publicly condemn the censoring of ex-gay books in any community.  Public libraries should be for everyone."
###
Visit http://pfox.org/about_us.html for information about the ex-gay community.
Parents and Friends of Ex-Gays & Gays (PFOX) promotes an inclusive environment for the ex-gay community, and educates youth with factual information about same-sex attractions.
A copy of this press release is available online at http://pfox-exgays.blogspot.com/2009/08/american-library-association-asked-to.html
More on this story is available at the CNN web site at http://www.cnn.com/2009/US/07/22/wisconsin.book.row/index.html
This article was posted on Monday, August 10th, 2009 at 10:31 pm and is filed under
A - What does the Bible say about homosexuality?
,
B - Ex-Homosexual Testimonies
,
Bible
,
Biblical Truth
,
C - Heroes for Truth
,
Library Bias
,
News
,
The Bible, Churches, & Homosexuality
. You can follow any updates to this article through the
RSS 2.0
feed.