Sexual "progressives" bring back the chains … and the whips while SFPD cops stand idly by
WARNING: Offensive photos depicting San Francisco's perversion of "tolerance"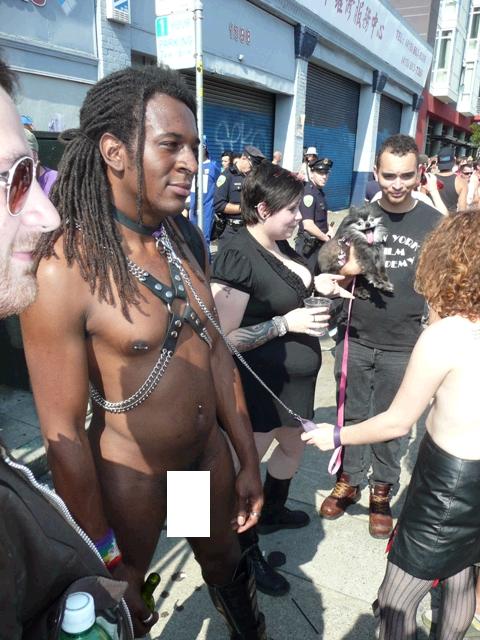 Me: Naked Black Slave on leash; You: White Master: Is this what big city liberals and pro-"gay" activists mean when they extol "diversity" and "sexual freedom"? (Note the two cops in the background who took no action against this public nudity.) We covered up the exposed genitals of the African-American man at left, who with his white, female "master" (holding leash) attended the 2009 Folsom Street Fair in San Francisco Sunday afternoon. Despite the SFPD's promises earlier this year to crack down on public nudity at such events, police and city (and state) authorities again "tolerated" full frontal nudity at Folsom. (More firsthand Americans For Truth photos to come from our man on the scene.)
Consensual "master-slave" "relationships" are just one of the demented perversions that fall under the sadomasochistic ("leather") umbrella.  Powerful homosexual groups like the National Gay and Lesbian Task Force promote such deviance — see our stories HERE and HERE on the Task Force's annual "Leather Leadership Award." The same Task Force — which purports to support "monogamous" values for homosexuals as it injects itself into Maine's current battle over  "same-sex marriage" — manages to vilify Christian pro-family groups as "extremists" despite its own promotion of twisted and dehumanizing "S&M" perversions.

Daddy "Master," Boy "Slave":  Below, another "master-slave couple," this one homosexual, poses for the camera at Sunday's Folsom Street Fair in San Francisco. Note that the "slave" — who appears to be considerably younger than his "master" — is bound by a leash to the older man. We had to cover it up, but the younger man also is wearing a "sex toy" contraption that hangs from his shoulders and attaches to the base of his testicles.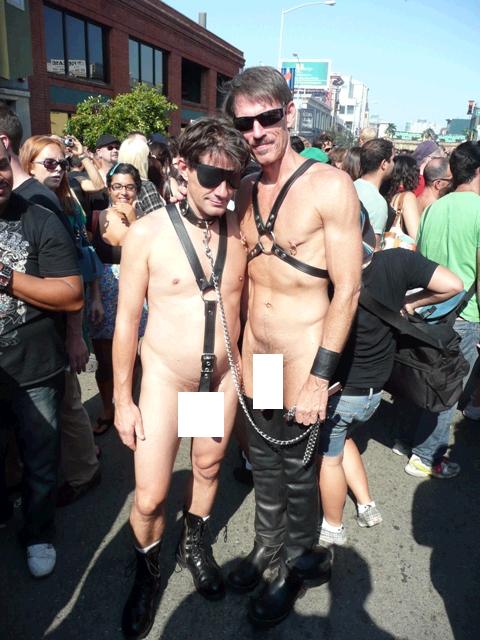 This article was posted on Tuesday, September 29th, 2009 at 10:42 am and is filed under
"Civil Unions" & "Gay Marriage"
,
"Civil Unions" & "Gay Marriage"
,
BDSM
,
Extremism
,
Health & Science
,
Homosexual Pride Parades & Festivals
,
Leather
,
Maine
,
Mental Health
,
News
,
San Francisco
,
Task Force
. You can follow any updates to this article through the
RSS 2.0
feed.