If a Christian did this to a "gay" activist, would it be reported as a "hate crime"?
Folks, imagine if a Christian or conservative group publicized the phone number of a homosexual employee taking calls for a "gay" organization's fundraiser, in an obvious attempt to harass the person and the group. Such a dirty trick rightly would be condemned by pro-family and conservative leaders as beyond the pale. Well, check out this little bit of nastiness by New York City-based atheist homosexual blogger Joe Jervis, creator of the "Joe.My.God" website [WARNING: this is a very dirty and vulgar website]. Jervis posts (North Carolina-based) AFTAH staffer Donna Miller's phone number FOUR times in a 100-word post. Creepy. Homosexual militants love to rail against Christian "hate"– falsely equating traditional beliefs about homosexuality with malice and bigotry. But if this isn't true hate and harassment, then nothing is. (If you have a thick stomach, check out the mean and twisted comments, mostly targeting Barber, that follow Jervis' post.) — Peter LaBarbera, www.aftah.org. [More info on AFTAH's Banquet HERE; sign up online with your donation HERE.]
From Jervis' website (the links won't work on this graphic, including the one to the announced Gay Liberation Network protest against our event):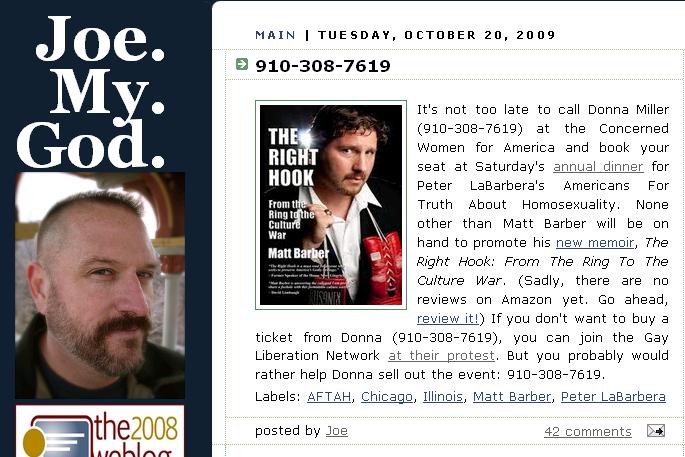 This article was posted on Tuesday, October 20th, 2009 at 10:33 pm and is filed under
Christian Persecution
,
Gay Activist Hate Against Christians
,
Gay Activist Hypocrisy
,
Gay Rights vs. Others' Rights
,
Homosexual Blogs
,
Homosexual Hate
,
Homosexual Hate Speech
,
News
,
Tolerance?
. You can follow any updates to this article through the
RSS 2.0
feed.