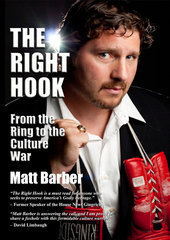 Dirty Tricks against Barber: Homosexual activists are submitting fake reviews attacking Matt Barber's new book, "The Right Hook," on Amazon.com. The book will not even be officially released until November 3rd and many are lying, saying they've read it. AFTAH has made a pre-order, so banquet attendees will be able to purchase a signed copy of "The Right Hook" this Saturday, Oct. 24 at Christian Liberty Academy (502 Euclid Ave., Arlington Heights, IL; doors open at 5:30, dinner at 6:30 PM). A homosexual militant also started a phone-harassment campaign against AFTAH staffer Donna Miller (call 910-308-7619 to RSVP). Click HERE to sign up for the banquet online or make a gift to Americans For Truth.
Dear AFTAH Readers,
Homosexual militants despise Americans For Truth because we bring their radical agenda to light — and expose certain "inconvenient truths" like the fact that President Obama's controversial "Safe Schools" chief, Kevin Jennings, chose a pro-NAMBLA publisher to produce and distribute his first two books.  They also hate AFTAH because they know that they cannot intimidate us.  So it is no surprise that New York City homosexual activist blogger Joe Jervis is using dirty tricks to harass AFTAH staffer Donna Miller and sabotage our keynote speaker Matt Barber's new book "The Right Hook."  (Matt will be signing copies at the banquet.)
Please support us by coming to the banquet Saturday evening, Oct. 24th at 6:30 at Christian Liberty Academy [more details HERE and you can sign up online HERE] — or by making a tax-deductible donation to Americans For Truth at www.americansfortruth.com/donate/.  You can mail your gift to: Americans for Truth, PO Box 5522, Naperville, IL 60567-5522.  We just received another generous $10,000 "match grant" for the banquet so your donation of $1,000, $500, $100, or $25 will be doubled!
To reach Donna, call 910-308-7619.  Just be prepared to go to her voicemail and get a call back — because she's receiving a bunch of hate calls from homosexuals, including one fellow who phoned in this morning to call her the nasty C-word.  Now how about that for "tolerance"?….  God bless you. — Peter LaBarbera, www.americansfortruth.com
P.S. Pray for Joe Jervis. He is very lost.