Should Christians take solace in fact that pro-"gay" ad will only run in France and not USA?
TAKE ACTION: You can write McDonald's HERE or call 1-800-244-6227; or write: McDonald's Corporation, Attn: Jim Skinner and Don Thompson, 2111 McDonald's Dr., Oak Brook, IL 60523.
By Peter LaBarbera
Folks, perhaps you've seen the YouTube of this wicked McDonald's TV commercial in France, featuring a homosexual teenage boy in love with another member of his all-boys school. (His out-of-touch, hopelessly 'heterosexist' father still thinks of his son as a potential lady's man.) Since I saw the ad a while ago, I have stopped eating at McDonalds — which has had the added bonus of helping to keep my already protruding gut from officially being designated as "super-sized."  
To a significant degree, McDonald's with its high-calorie fare has always been in the business of promoting unhealthy lifestyles; now it has added unhealthy sexual lifestyles to the mix. To be sure, McDonald's does not include promoting wholesomeness and time-tested Judeo-Christian morality among its "core values." In a contorted defense of the fast food giant's marketing practices, McDonald's Chief Operation Officer Don Thompson told the Chicago Tribune in March that the French ad will not  be running in the USA. But the "Come as You Are" commercial has received wide publicity and gotten over two million hits on YouTube, so that's a small comfort to Americans who have no interest in promoting youth homosexuality when they buy a Big Mac, or a Happy Meal for their young children.
Here's FOX's Bill O'Reilly segment on the French commercial — note how O'Reilly repeats the old homosexual-activist myth that "gays are ten percent of the population" — followed by more commentary and a McDonald's-France letter defending it:  
As you can read in the Tribune interview, excerpted below, Thompson is a very public Christian, which is a good thing. But I find it deeply disturbing and hypocritical that he apparently is not troubled by McDonald's' promotion of sinful and deviant behavior to young people — as long as it occurs in France where homosexuality is much less controversial than in the United States.
Of course, Thompson is a company man, so he has to toe the line in his public statements. But Christianity is not divided by national borders and he must know that promoting wrong and unhealthy sexual lifestyles to French teenage boys is every bit as evil and reckless as promoting sinful lifestyles to American boys. (Are you getting a feel for how post-modern, pro-homosexual Corporate America is corrupting the souls of its devoted employees?) 
[TAKE ACTION: You can write McDonald's HERE or call 1-800-244-6227; or write: McDonald's Corporation, Attn: Jim Skinner and Don Thompson, 2111 McDonald's Dr., Oak Brook, IL 60523.]
Changeable, male homosexuality is not "who you are" but is more rightly understood as a high-risk perversion — as evidenced by its disproportionately high linkage to various sexually transmitted diseases including HIV. (The "rate of new HIV diagnoses among men who have sex with men (MSM) is more than 44 times that of other men," the CDC reported in March. "The rate of primary and secondary syphilis among MSM is more than 46 times that of other men," it reported.) Getting by on the technicality that this youth-corrupting ad is only running in another (more decadent, less religious) country is the coward's way out of a shameful PR disaster for the fast-food behemoth. And that defense has only alienated both sides of the debate: pro-"gay" advocates are upset that the McDonald's-France commercial is not running in the U.S.   
McDonald's and its CEO, Jim Skinner (and COO Don Thompson) owe an apology to French moms and dads — and French young people — for promoting the unnatural, disease-producing homosexual lifestyle to French boys as some kind of innocuous, natural — and "cool" — identity. Until that apology comes, I am avoiding the famed Golden Arches. If you join me, it will be one of the healthiest corporate boycotts you ever engage in — but please make sure that you pay a visit to your local McDonald's manager and franchise owner — to personally inform them of the reason that you are not eating there anymore. (Show them the YouTube ad.) Then they can relay your message of concern up the corporate ladder.
Thanks for standing up for moral sanity and truth against Corporate America's increasingly brazen promotion of sexual immorality, in the name of that modern, Orwellian euphemism, "diversity." — Peter LaBarbera, www.aftah.org   
P.S. Memo to pro-homosexuality activists: if you want to negate our boycott: have at it! The Big Macs, fries and Quarter-Pounders, dripping with grease and loaded with fat-producing calories, are there to be eaten. Here's a caloric rundown of some popular McDonald's menu items, courtesy of Shapefit.com:
Big Mac: 570 calories
Quarter Pounder: 430 (w/cheese: 530 c.)
Large French Fries: 540 c.
Crispy Chicken Deluxe Sandwich: 500 c.
File-O-Fish Sandwich: 470 c.
Big Xtra! Hamburger: 710 c. (w/ cheese 810 c.)
Oreo McFlurry: 570 c.
Sausage McMuffin w/ Egg Sandwich: 440 c.
Chicken McNuggets 9-piece: 430 c.
_______________________________________________________
Here is a clearer YouTube version of the McDonald's ad (after it starts playing, you may need to close the "Google Ads" box so you can better view the English subtitles):
_______________________________________________________
Tribune Interview with McDonald's COO Don Thompson:
Excerpt from Chicago Tribune reporter Michael Oneal's June 13, 2010 interview with McDonald's COO Don Thompson. Note that Thompson's response begs the question: just what are McDonald's "core values" if they include promoting the acceptance of youth homosexuality to the wider culture? (Emphasis added below:)
Tribune: A French TV ad featuring a gay teen and his father has stirred some controversy — not there, but here. Can you talk about that?

Thompson: It is an example that markets, cultures are very different around the world. (For instance), I've never shied away from the fact that I'm a Christian. I have my own personal beliefs and I don't impose those on anybody else. I've been in countries where the majority of the people in the country don't believe in a deity or they may be atheist. Or the majority of the country is Muslim. Or it may be the majority is much younger skewed. So when you look at all these differences, it's not that I'm to be the judge or the jury relative to right or wrong. Having said that, at McDonald's, there are core values we stand for and the world is getting much closer. So we have a lot of conversations. We're going to make some mistakes at times. (We talk) about things that may have an implication in one part of the world and may be the cultural norm in another part of the world. And those are things that, yes, we're going to learn from. But, you're right, that commercial won't show in the United States.

Tribune: How has it done in France?

Thompson: Interestingly enough, there have been no negatives coming out of France. The brand is a local brand and different things will occur in different parts of the world. We just have to make sure that we understand the impact one action may make on another part of the world.
_________________________________________________
[TAKE ACTION: You can write McDonald's HERE or call 1-800-244-6227; or write: McDonald's Corporation, Attn: Jim Skinner and Don Thompson, 2111 McDonald's Dr., Oak Brook, IL 60523.]
_________________________________________________
McDonald's-France Reply to American Customer Concerned over Pro-Homosexual Ad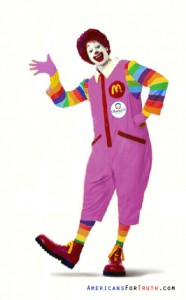 The following letter was sent by McDonald's France in response to an  American customer who wrote to express his concern over the corporation's homosexuality-affirming TV ad:
July 5, 2010

Mr. ________________,

I have received your letter regarding our advertising film "Come as You Are."

The ad you're referencing is one of a series of ads called "Come as You Are" which recognizes the diversity of McDonald's customers in France.

The campaign was designed to communicate the true McDonald's experience in France: a place where you can be yourself, whatever your state of mine, your background; a place where you can feel free of constraints, a place where you can 'Come as You Are.' Since its launch, the campaign has acheived high awareness and it has been received positively by the majority of the French public.

The goal with this new phase of the campaign is to continue to build on the emotional connection created between the brand and the French [public. By] going beyond a simple description of our customers we actually tell their stories, capturing their personality and their emotions.

Through these films McDonald's pays tribute to the diversity of its customers and the richness of their stories.

I hope you'll better understand the aim of your [sic] "Come as You Are" communications campaign.

Your [sic] sincerely,

Nathalie Febvre
Customer Services Department
McDonald's France Services
This article was posted on Sunday, July 25th, 2010 at 1:42 pm and is filed under
A - What does the Bible say about homosexuality?
,
Biblical Truth
,
Boycotts -- Pro-Natural-Family
,
CDC
,
Corporate Promotion
,
Diversity & Tolerance Propaganda
,
Gay Sex Health Risks
,
GLBTQ Targeting Youth and Schools
,
HIV/AIDS
,
International
,
McDonald's
,
News
,
Restaurants
,
The Bible, Churches, & Homosexuality
,
Too Much Tolerance
,
YouTube videos
. You can follow any updates to this article through the
RSS 2.0
feed.