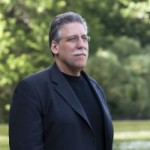 Here is Part Two of our interview with Dr. Michael Brown, author of "A Queer Thing Happened to America" and president of the Charlotte, NC-based Coalition of Conscience. [Click HERE to listen.] This interview was pre-taped and aired on WYLL-Chicago April 30, 2011. Brown discusses a chapter in the book in which he shows that many of the same arguments that are used to justify the acceptance of homosexuality are also used to argue for normalizing pedophilia. Brown also discusses his recent debate on same-sex "marriage" at the University of Central Florida, which caused needless controversy due to leftist intolerance for opposing views on homosexuality.
ORDER A BOOK: "A Queer Thing" is available through AFTAH at a discount for a gift of $25 or more (postage paid). Give online at www.americansfortruth.com/donate/, or send your donation to: AFTAH, PO Box 5522, Naperville, IL 60567-5522. This is a four-part interview; go click HERE for the link to Part One of the interview.
HOW TO LISTEN: This is an mp3 file, supported in most operating systems by Windows Media Player, Quick Time and/or I-Tunes.  Do Not Use Real Player.  It is not supported and there may be difficulty listening with it.  Left click once on the link below to play.  (Please be patient, depending upon the speed of your internet connection it may take a moment or two to load.)  OR right click the link then "save target as" to download the whole show. 
This article was posted on Monday, May 2nd, 2011 at 11:24 pm and is filed under
"Civil Unions" & "Gay Marriage"
,
Americans for Truth Hour
,
Biblical Truth
,
Changing Societal Attitudes
,
Conservative Leaders
,
Liberal Christianity
,
News
,
Pedophilia/Pederasty
,
Redefining Morality
. You can follow any updates to this article through the
RSS 2.0
feed.