"Widespread confusion" among Catholics regarding Church teachings amidst "onslaught of lifestyles spread by anti-Christian lobbies," says petition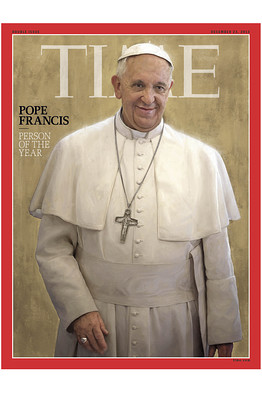 "Basing itself on Sacred Scripture, which presents homosexual acts as acts of grave depravity, tradition has always declared that 'homosexual acts are intrinsically disordered.' They are contrary to the natural law. They close the sexual act to the gift of life. They do not proceed from a genuine affective and sexual complementarity. Under no circumstances can they be approved." — Catechism of the Catholic Church, "Chastity and homosexuality," 2357; see full text HERE.
Folks, I am not a Roman Catholic and I am averse to calling any man "Holy Father," but I am reprinting this petition because you need to know that the the battle to overturn longstanding Catholic teaching against homosexualism is intensifying. Leftist "Catholics" who reject the Church's teachings against homosexual practice are mobilizing for the Synod on the Family. Below is a petition signed by prominent Catholics (see list HERE), reprinted from the conservative group Tradition, Family, Property's website. It is preceded by TFP's introductory note.
The actions of the Catholic Church and the attitudes of American Catholics toward homosexualism greatly affect this cultural debate–and so all concerned citizens, regardless of their faith, must pay attention to this ongoing struggle. Many Western Catholics willfully choose to be ignorant of, or generally flout, historic Church teachings on this issue. And many a politician and pundit has used Pope Francis to justify supporting homosexuality-based "marriage" even though it is rejected emphatically by Catholic doctrine (see above). We will follow the Synod debate closely, relying on the analyses of some of our Catholic friends.  — Peter LaBarbera, AFTAH
_______________________
American TFP writes: 
Dissident Catholic pressure groups — aided by the liberal media — are feverishly working to dismantle vital Church teaching on marriage and family at the next Synod on the Family in Rome.

In fact, they are bombarding the Holy Father and the Synod Fathers right now with messages of revolt against traditional moral values as they clamor for "change, change, change" inside the Church.

At this critical time, we must defend the truth and ask the Holy Father to protect the future of the family.
The American TFP is joining forces with over 20 more pro-family groups around the world to collect as many signatures as possible before the next Synod starts. This prayerful petition is a worldwide effort.  Everyone is invited to sign.

May God reward you.
_______________________
Filial Petition to Pope Francis: 
Holy Father,

In view of the Synod on the family to be held in October 2015, we filially address Your Holiness to express our fears and hopes regarding the future of the family.

Our fears arise from witnessing a decades-long sexual revolution promoted by an alliance of powerful organizations, political forces and the mass media that consistently work against the very existence of the family as the basic unit of society. Ever since the so-called May 1968 Sorbonne Revolution, a morality opposed to both Divine and natural law has been gradually and systematically imposed on us so implacably as to make it possible, for example, to teach the abhorrent "gender theory" to young children in many countries.

Read the rest of this article »