New ballot efforts seeks voter referendum on "gay marriage/civil unions" in Illinois in 2012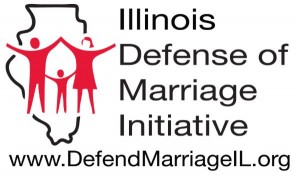 Note: it is outrageous that the State of lllinois would even consider FORCING religious adoption agencies (or irreligious agencies, for that matter) to place children in homes that are motherless or fatherless by design. Adults (proudly) practicing homosexuality are not good role models for impressionable children, who need a mom and a dad. (No, the sexes are not  interchangeable.) The new Illinois "Civil Unions" law — rammed through Springfield in a lame-duck session — must be repealed to preserve religious liberty in the Land of Lincoln. "Exemptions" — even if they are strengthened — won't preserve freedom.
In the meantime, a new movement has been launched to place an Advisory Referendum on "same-sex marriage" (and "civil unions") on the Illinois ballot in 2012. Almost 300,000 signatures of Illinos voters must be gathered and turned into the Illlinois Board of Elections by April 2012 to make that happen. To get involved, go to www.DefendMarriageIllinois.org and download a petition and instructions. — Peter LaBarbera, www.aftah.org   
______________________________________________
FOR IMMEDIATE RELEASE                                                                                     
CONTACT:  Tom Ciesielka, 312-422-1333; tc@tcpr.net; June 7, 2011                                                                                                                   
Catholic Leaders Take Legal Action Over Risk of Losing Foster Care Services
Catholic Charities in Illinois Seek Remedy for Best Interests of Children, Families
(SPRINGFIELD, IL) Leaders of three Catholic dioceses – the Diocese of Springfield in Illinois, Peoria and Joliet – took legal action today as their charities fight to continue their work in serving the best interests of thousands of needy children and families throughout the state.
In March of this year, the Attorney General's office issued a letter stating that the office "received notice that Catholic Charities … discriminates against Illinois citizens based on race, marital status and sexual orientation" in the provision of foster care and adoption services and demanded that Catholic Charities turn over a wide range of documents in response. The June 1 law authorizing civil unions in Illinois has raised further questions and criticism about Catholic Charities' longstanding position not to place children for adoption and foster care with non-married couples who live together – regardless of sexual orientation.
This lawsuit, filed in Sangamon County Circuit Court, seeks a declaration that the charities are in full compliance with Illinois law in their current practices and an injunction against further action by Illinois government officials to the contrary. The charities argue both that the Illinois Human Rights Act exempts religious adoption agencies from the provisions relied upon by the Attorney General's office and that the new Religious Freedom Protection and Civil Union Act includes an express protection for the religious freedom of entities like Catholic Charities.
The charities ask the court to declare that they are legally justified to continue their current practices of working only with married couples and single, non-cohabiting individuals. Civil union couples are free to choose among dozens of other organizations for these services.
"Child welfare advocates know it is in the best interest of Illinois children for Catholic Charities to stay in this business," said Steven Roach, Executive Director for Catholic Charities in the Springfield Diocese. "It's tragic that there are people who believe unnecessarily disrupting the lives of thousands of vulnerable children is an acceptable outcome in this situation."
Catholic Charities have served thousands of children and families with top-quality, nurturing care since 1921 and handle about 20 percent of the cases in Illinois. Charities' leaders are extremely concerned what will happen with those children and families if they are forced out of this work.
"Religious and faith-based entities need not check their beliefs at the door when providing vital social services for the benefit of needy and vulnerable children and families in Illinois. Catholic Charities has a clear right under Illinois law to pursue its charitable good works in the true spirit of the Gospels and the Sermon on the Mount, faithful to the essential tenets of its Catholic faith. We will advocate strongly to protect Catholic Charities' continuing its mission of social service," said Tom Brejcha of the Thomas More Society, which is representing the charities in the lawsuit.
About the Thomas More Society
Formed in 1997, the Thomas More Society is a national public interest law firm based in Chicago. The Society defends religious liberty, marriage, and the sanctity of human life in courtrooms across the country. For more information, please visit www.thomasmoresociety.org.
###
This article was posted on Thursday, June 9th, 2011 at 12:37 pm and is filed under
"Civil Unions" & "Gay Marriage"
,
"Civil Unions" & "Gay Marriage"
,
"Sexual Orientation"/"Gender Identity" and the Law
,
A - What does the Bible say about homosexuality?
,
Adoption
,
Biblical Truth
,
Catholic
,
Chicago
,
Christian
,
Christian Persecution
,
Corrupting Children
,
D - GLBTQ Pressure Within Churches
,
Freedom Under Fire
,
Gay Rights vs. Others' Rights
,
Government Promotion
,
News
,
Stealing Civil Rights
,
The Bible, Churches, & Homosexuality
. You can follow any updates to this article through the
RSS 2.0
feed.