In Obama's Navy, lesbians get the traditional "first kiss"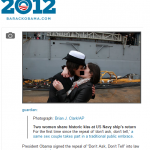 Below is a redacted copy of President Barack Obama's Campaign 2012 Tumblr page celebrating another tragic "first" for his Administration: the traditional Naval "first kiss" following a ship's return to port occurred Dec. 21 between two women — as opposed to the normal and natural male-female spousal kiss.  The AP photo below (covered up here by AFTAH for the sake of decency) appeared worldwide, and Obama reposted it along with a portion of the story as it appeared in the British newspaper The Guardian. As you can read in the (typically one-sided) AP story, David Bauer, commanding office of the USS Oak Hill, was in cahoots with this homosexuals-in-the-military promotional stunt, telling AP that the crew was fine with the lesbians' selection. Said Bauer of the publicly perverse kiss: "It's going to happen and the crew's going to enjoy it." (That's an order!)
It must be remembered that despite Western modernists' curious obsession with homosexuality, this lesbian kiss is indecent by historic moral and religious (Judeo-Christian) standards. We are tempted to say Shame on the President, but it is all too obvious by now that this Commander-in-Chief sees no shame in celebrating sexual deviance (sin) — even open displays like this. (Obama infamously pooh-poohed a New Testament passage in Romans that clearly proscribes lesbianism and male homosexual acts.) Liberals cannot rewrite the moral code nor can they redefine decency to accommodate anything-goes sexuality.
Now Obama and the Democrats have ensured that wherever public displays of affection between married spouses and boyfriends-and-girlfriends occur, indecent spectacles like this will be in close proximity. Military moms and dads: be prepared to block the eyes of your little ones at reunions and all formerly wholesome military functions. Should God Bless this America?– Peter LaBarbera, www.aftah.org
This article was posted on Friday, December 30th, 2011 at 4:03 pm and is filed under
"Sexual Orientation"/"Gender Identity" and the Law
,
A - What does the Bible say about homosexuality?
,
Biblical Truth
,
Candidates & Elected Officials
,
Democrat Party
,
Gay Rights vs. Others' Rights
,
Government Promotion
,
Liberal Christianity
,
Military
,
Morality and Moral Judgments
,
News
,
Obama
,
The Bible, Churches, & Homosexuality
. You can follow any updates to this article through the
RSS 2.0
feed.