Cook County judge is member of homosexual judges group, advocated for "gay" cause; pro-family attorneys say she should recuse herself from case
By Peter LaBarbera, AFTAH exclusive
CHICAGO—Cook County Circuit Court Judge Sophia Hall — who will rule on combined pro-homosexual lawsuits challenging Illinois' existing law defining marriage as one-man, one-woman — is an open lesbian and pro-homosexuality advocate, according to information widely available online but which has gone unreported by the media.
Judge Hall's homosexuality is not a secret, nor an "open secret" –as it was with  Vaughn Walker, the California judge who last year issued a decision overturning that state's Proposition 8 marriage amendment only to subsequently reveal his "gay" identity. In contrast, Hall is a "charter member" of a homosexual judges organization in Chicago, the Alliance of Illinois Judges, which marches in Chicago's annual "gay pride" parade. Last year, the AIJ sponsored — along with the "gay" activist organizations Lambda Legal and Equality Illinois — a public outdoor ceremony attended by city officials celebrating Illinois' new "civil unions" law; AIJ judges officiated the "civil unions" for homosexual couples.
In a perusal of recent media reports on the Chicago "gay marriage" lawsuit, Judge Hall's lesbianism and membership in a homosexual judges group that advocates for "gay rights" went unreported. Thus their implications for the case have not been publicly scrutinized, even by leading Illinois conservatives. Meanwhile, two pro-family attorneys contacted by AFTAH said Hall should recuse herself from the homosexual "marriage" case due to her personal conflict-of-interest. The pro-homosexual-"marriage" lawsuits were brought jointly by the ACLU and Lambda Legal, a homosexual legal group. Illinois' Attorney General, Lisa Madigan, is supporting the homosexual activist lawsuits rather than defending her state's marriage law.
Judge Hall herself has openly advocated for pro-homosexual causes, saying in a 2010 speech that she has "focused on efforts to combat the injustice of racism, gender bias, bias against gays and lesbians, and other stereotypes that belittle those who are stereotyped."
The graphic below is a modified version of what appears in the July 2007 newsletter of the Lesbian and Gay Bar Association Chicago (LAGBAC) — which hosted a reception honoring Judge Hall and 13 other openly homosexual judges in Cook County: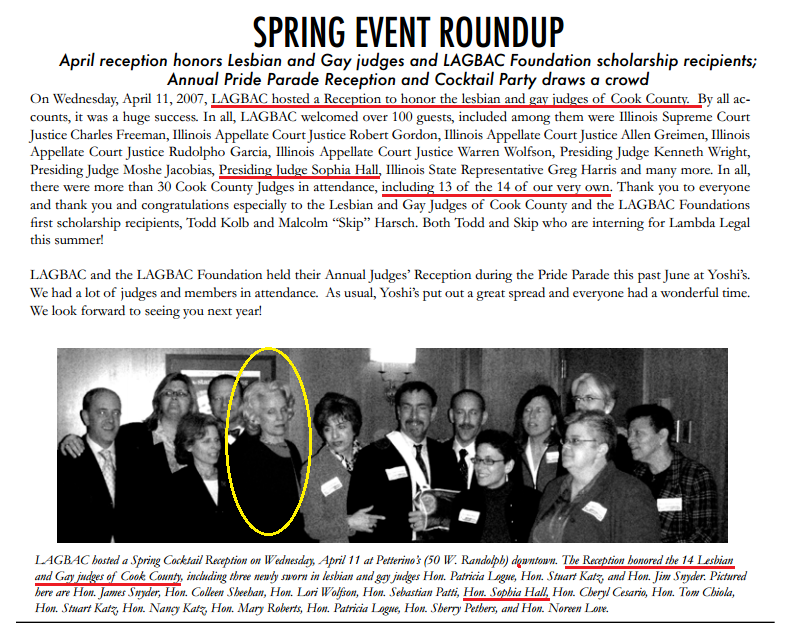 The same edition of the LAGBAC newsletter announced two $4,000 scholarships to law students interning at Lambda Legal, one of which was "doing a myriad of assignments surrounding the Iowa same-sex marriage case." Two years later, on April 3, 2009, homosexual "marriage" was legalized by the Iowa high court in a 7-0 decision.
Calls for Recusal
News of Judge Hall's membership in and association with Chicago homosexual advocacy groups brought calls for her to recuse herself from the case that could bring legal homosexual "marriage" to Cook County (if not all of Illinois, although her decision will almost certainly be appealed to the Illinois Supreme Court). Said Professor Rena Lindevaldsen, Associate Dean of the Liberty University School of Law:

Judge Hall is presiding over a case that seeks to fundamentally alter the meaning of marriage in Illinois. As a Charter Member of the Alliance of Illinois Judges, which is an organization dedicated to LGBT causes, she has an obvious conflict of interest. Pursuant to the Illinois Code of Judicial Conduct, a judge must disqualify herself in any case where her "impartiality might reasonably be questioned." (Rule 63-Cannon 3). If the tables were turned and she was a charter member of an organization that had as its mission to overturn Roe v. Wade and she was presiding over a case where the validity of Roe was in question, there would be incredible outcry to have her removed from the case. Given the significance of the case before her, Judge Hall should take steps to avoid even the perception of a conflict of interest, and recuse herself."
Lindevaldsen told AFTAH that in more than 10 years closing following "same-sex marriage" (SSM) litigation, this is the first time she has heard of a an openly homosexual judge deciding an SSM case.
Scott Lively, an attorney and founder of Defend the Family International, and leading pro-family advocate on the homosexual issue, said:
Judicial recusal to prevent the appearance of bias is an essential component of our legal system. Its authority depends on public confidence in its impartiality. Can anyone reasonably expect an open lesbian and member of a "gay rights" advocacy group to be impartial on the issue of "gay marriage"? If this judge has any respect at all for our judicial system, she must recuse herself.
Following are among the grounds for judicial disqualification in Illinois (emphasis added):
C. Disqualification.

(1) A judge shall disqualify himself or herself in a proceeding in which the judge's impartiality might reasonably be questioned, including but not limited to instances where:

…

(d) the judge knows that he or she, individually or as a fiduciary, or the judge's spouse, parent or child wherever residing, or any other member of the judge's family residing in the judge's household, has an economic interest in the subject matter in controversy or in a party to the proceeding, or has any other more than de minimis interest that could be substantially affected by the proceeding; or…

(e) the judge or the judge's spouse, or a person within the third degree of relationship to either of them, or the spouse of such a person;…

(iii) is known by the judge to have a more than de minimis interest that could be substantially affected by the proceeding.
Judges and homosexuality in Chicago
The following items deal with homosexual judges in Illinois, Judge Sophia Hall's "gay" associations, and reportage of her open homosexuality (emphasis added):
According to an report about Alliance for Judges in the Illinois State Bar Association (of which AIJ is a member), "Cook County [Illinois] has one of the highest concentrations of openly gay or lesbian judges in the country. This number seems to grow every election cycle. In 2009, 15 Cook County judges who openly identify themselves as gay or lesbian established the Alliance of Illinois Judges."
The AIJ states that its mission is, in part: "3. Promote and encourage respect and unbiased treatment for Lesbian, Gay, Bisexual, and Transgender (LGBT) individuals as they relate to the judiciary, the legal profession and the administration of justice; and
The Chicago Tribune reported in December 2009 that "the 15 jurists formally organized as the Alliance of Illinois Judges to, among other things, lobby other circuit judges for the appointment of more gays and lesbians as associate judges, mentor law students and encourage the state to extend judges' pensions benefits to domestic partners";
The Tribune article quotes Michael Sonberg, a New York Criminal Court judge who helped launch AIJ in the early 1990s, as saying there are "clusters of openly gay or lesbian judges in a few major cities and one openly gay federal judge in the country";
Judge Hall's photo appears on the website (see photo at right) of the Gay and Lesbian Victory Fund, an activist group that works to elect open homosexuals to public office. Recently, GLVF announced that it is partnering with radical homosexual activist Dan Savage, whose extreme and obscene tactics and rhetoric have outraged many Americans;
Judge Hall is listed as one of Chicago's "out" homosexual judges in the book, "Out and Proud in Chicago: An Overview of the City's Gay Community," by Tracy Baim, veteran reporter for Chicago's homosexual newspaper, Windy City Times (see page 197; reproduced at bottom);
Here is Judge Hall in her own words on the matter of "prejudice" and "combating injustice," from her 2010 speech to the Chicago Bar Association, which awarded her the "Justice John Paul Stevens Award":
"I have, with others, focused on efforts to combat the injustice of racism, gender bias, bias against gays and lesbians, and other stereotypes that belittle those who are stereotyped. At the core of stereotyping and the bias that rears from it, is the lack of real knowledge about the other who is different from us. Knowledge, however, can be obtained through respectful and passionate conversations – conversations that are open. Conversations, where one does not fear that their truth will be met with derision and epithets….
"Never doubt that a small group of thoughtful committed and diverse citizens can change the world. Indeed, it is the only thing that ever has."
___________________________
Related article: click on this Must-Read article by constitutional legal expert Paul Linton to better understand the Illinois "gay marriage" case. It appears on the website of the Chicago-based Thomas More Society, which has been granted 'intervenor status' in the case — to defend the state's marriage law because none of our Democratic, pro-"gay-marriage" elected officials would do so.
Lesbian-authored book "Out and Proud in Chicago" documents Sophia Hall's status as one of the Windy City's "out" homosexual judges.
This article was posted on Friday, July 20th, 2012 at 3:37 pm and is filed under
"Civil Unions" & "Gay Marriage"
,
"Civil Unions" & "Gay Marriage"
,
"Sexual Orientation"/"Gender Identity" and the Law
,
Candidates & Elected Officials
,
Court Decisions & Judges
,
Government Promotion
,
Homosexual Quotes
,
Homosexuality - Practical Considerations
,
Illinois
,
News
,
Politicians & Public Officials
. You can follow any updates to this article through the
RSS 2.0
feed.