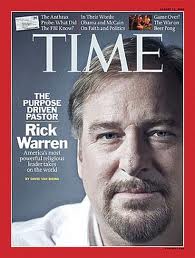 Americans For Truth is featured in this follow-up by Christian News Network to their original piece on Saddleback Church Pastor Rick Warren's comments about homosexuality. The following are excerpts from the article:
_________________________________
Rick Warren Expresses Regret Over Making Video Supporting Biblical Marriage; Family Group Concerned
December 4, 2012 | Christian News Network
By Heather Clark
A pro-family group is calling into question recent statements made by Rick Warren, author of The Purpose-Driven Life and pastor of Saddleback Church in California, surrounding his regret over creating a video in 2008 that expressed his support for Biblical marriage.
During a recent interview with Marc Lamont Hill of the Huffington Post, Warren sought to clarify matters pertaining to his creation of a video years ago in which he stated that those who follow the Bible should support California's Proposition 8 ballot initiative. He had been accused of lying months after releasing the video for stating during an interview on Larry King Live that "[d]uring the whole Proposition 8 thing, I … never once issued a statement, never once even gave an endorsement in the two years Prop. 8 was going."
"People say that I campaigned for Proposition 8. The meaning of the word 'campaign' means two different things," Warren told Hill. "To me, that means that you go out and you speak at rallies, you do advertisements for it and stuff like that."
"I never made a single statement on Prop. 8 until the week before, and in my own church, some members said, 'Where do we stand on this?'" he explained. "[So], I released a video to my members. It was posted all over like it was an advertisement."
…
Following Warren's explanation, some are expressing concern, including Peter LaBarbera of Americans for Truth About Homosexuality. LaBarbera told Christian News Network that Warren's comments made him appear as if he was ashamed to publicly stand for the Biblical definition of marriage.
"[Warren] regrets that the statement got out wider than his church. To me, that's incredible because he should be happy that he had influence outside of his church to the whole body of Christ in California — indeed, to people all over the state voting on the issue who look to him for guidance," he said. "And so, that troubles me that he even says now that he wouldn't make that video. … That's saying that he does not want to be a leader on the homosexual 'marriage' issue."
LaBarbera stated that he believes many pastors are becoming inward and exclusive about their beliefs, when they should be using their influence outside of the four walls of the church.
"[Warren] used the world 'pontificate.' You're not pontificating. You're putting your voice out there as a spiritual and moral leader, and that's what pastors need to do," he said. "They need to get outside of this mindset that I'm only allowed to talk to my church."
"The question is, are Christian leaders self-segregating on the moral issues because they're under the gun of the pro-gay culture?" LaBarbera asked.
He stated that the fear of man should never be an excuse to run from the Christian responsibility of publicly standing for truth.
"The homosexual activist never agonizes and says, 'Wow, I don't think I should talk beyond my group of homosexual activists,'" LaBarbera explained. "They're pontificating all the time. They're telling us what to think. They're telling us that we're bigots if we are against homosexuality, or even if we're against same-sex 'marriage' now, they call you a bigot or a hatemonger or a homophobe."
"I get the fact that [Warren] is under the gun by the homosexual lobby. We all get it," he continued. "The homosexual lobby is aggressive and loud and vocal, and they want him to shut up about homosexuality being a sin, and they want him to conform to their ideology, but he can't."
LaBarbera stated that just like Warren is unashamed to proclaim the need to be involved in humanitarian work, he should likewise make use of his platform to uphold God's definition of marriage.
"I just wish he would stop backtracking and seeming embarrassed about helping to protect marriage," he said. "He doesn't have any qualms about preaching to everybody in the world the need to have compassion for people with AIDS, and he's right about that. But, he also in the same way [should] be outspoken and non-defensive about helping to protect the historic definition of marriage."