Who would have thought that an anti-"gay marriage" rally in France would draw at least 340,000 people and possibly much more — and that support for homosexual "marriage" would drop precipitously in the polls? (French support for same-sex "marriage" reportedly fell from 65 percent to 52 percent — though I don't trust polls and suspect that most surveys overstate support for the pro-homosexual agenda.) Check out these photos and a video of this amazing and historic rally — held in Paris on Sunday, January 13. Beneath the YouTube video (after the jump) there is an excerpt from an AP report on the rally, which includes a police estimate of 340,000 people attending the massive rally (organizers claimed 800,000 marchers).
Note too that the organizers of the rally folded a message of opposing "homophobia" into their pro-natural-message campaign (e.g, see the marcher holding the "Friend of Marriage Not Homophobia" sign at 1:09 of this 3-minute video). This viewpoint is far from one that AFTAH would put forward, but nevertheless the rally shows how unpopular the dominant LGBT goal of homosexual "marriage" is even in highly secularized countries like France. — Peter LaBarbera, Americans For Truth
PS. The huge rally in socialist-run France and the plummeting "gay marriage" poll numbers speak volumes about the "gay" activist propaganda line that LGBT victories are "inevitable." They are not.
YouTube URL: http://www.youtube.com/embed/LUeFZcCdpGE
AP excerpt [see full report HERE]:
Gay Marriage Protest Converges on Eiffel Tower
PARIS (AP) [Jan. 13, 2013] — Holding aloft ancient flags and young children, hundreds of thousands of people converged Sunday on the Eiffel Tower to protest the French president's plan to legalize gay marriage and thus allow same-sex couples to adopt and conceive children.
The opposition to President Francois Hollande's plan has underscored divisions among the secular-but-Catholic French, especially more traditional rural areas versus urban enclaves. But while polls show the majority of French still support legalizing gay marriage, that backing gets more lukewarm when children come into play.
The protest march started at three points across Paris, filling boulevards throughout the city as demonstrators walked six kilometers (3 miles) to the grounds of France's most recognizable monument. Paris police estimated the crowd at 340,000, making it one of the largest demonstrations in Paris since an education protest in 1984.
"This law is going to lead to a change of civilization that we don't want," said Philippe Javaloyes, a literature teacher who bused in with 300 people from Franche Comte in the far east. "We have nothing against different ways of living, but we think that a child must grow up with a mother and a father."
Public opposition spearheaded by religious leaders has chipped away at the popularity of Hollande's plan in recent months. About 52 percent of French favor legalizing gay marriage, according to a survey released Sunday, down from as high as 65 percent in August.
French civil unions, allowed since 1999, are at least as popular among heterosexuals as among gay and lesbian couples. But that law has no provisions for adoption or assisted reproduction, which are at the heart of the latest debate.
Hollande's Socialist Party has sidestepped the debate on assisted reproduction, promising to examine it in March after party members split on including it in the latest proposal. That hasn't assuaged the concerns of many in Sunday's protest, however, who fear it's only a matter of time.
"They're talking about putting into national identity cards Parent 1, Parent 2, Parent 3, Parent 4. Mom, dad and the kids are going to be wiped off the map, and that's going to be bad for any country, any civilization," said Melissa Michel, a Franco-American mother of five who was among a group from the south of France on a train reserved specifically for the protest…. [click HERE to continue reading full AP article]
_________________________________
More background on French opposition to 'gay marriage'
The growing coalition against "gay marriage" in France is made up of traditional religious and irreligious (including pro-"gay") forces. See THIS LifeSiteNews story describing previous rallies in Paris in November 2012 — one secular, the other religious.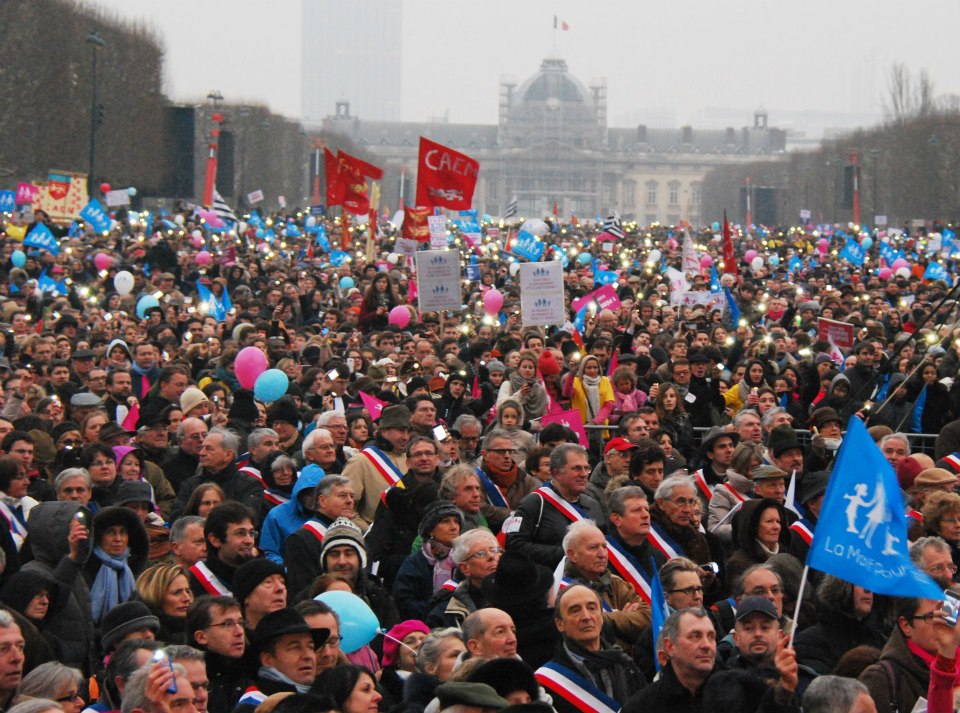 Photos: Facebook page of "La Manif Pour Tous": http://www.facebook.com/LaManifPourTous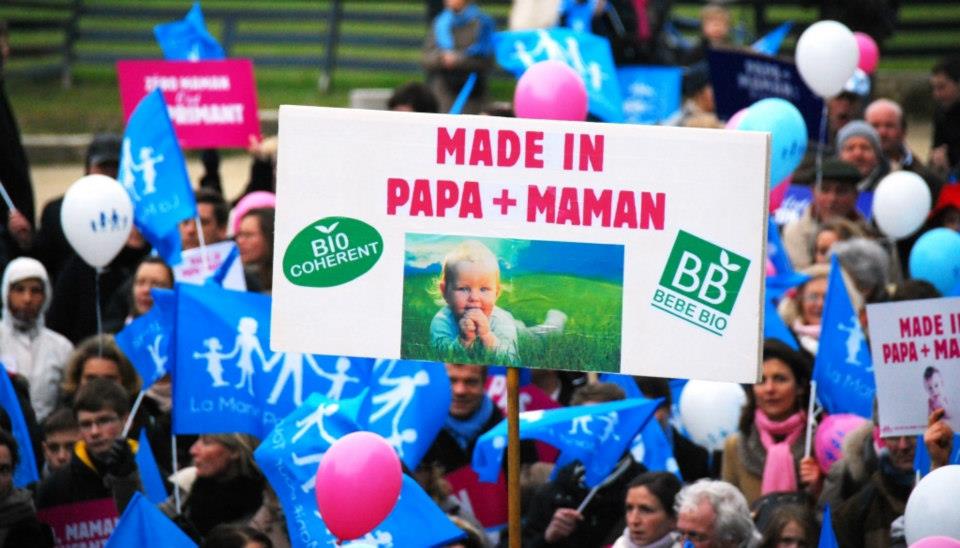 This article was posted on Wednesday, January 16th, 2013 at 2:09 pm and is filed under
"Civil Unions" & "Gay Marriage"
,
"Civil Unions" & "Gay Marriage"
,
"Sexual Orientation"/"Gender Identity" and the Law
,
Catholic
,
France
,
International
,
News
,
The Bible, Churches, & Homosexuality
. You can follow any updates to this article through the
RSS 2.0
feed.