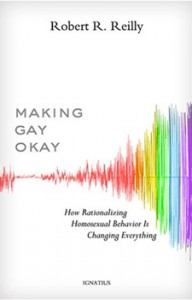 Get Books & Video with your contribution: Bless AFTAH & Bless Yourself when you give to Americans For Truth! 
__________________
Bless AFTAH, Bless Yourself! — Make your donation online HERE using our safe Credit Card Form. Also, our debut banquet in the Washington, DC area is Saturday, Nov. 21.  Tickets are just $40/person (Table of 10 for $400). Our speaker is Robert Reilly, author of "Making Gay Okay: How Rationalizing Homosexual Behavior Is Changing Everything." More banquet details HERE–and sign up for the banquet online HERE. All mailed AFTAH gifts can be sent to: AFTAH, PO Box 5522, Naperville, IL 60567-5522.
__________________
We have an opportunity for you to support AFTAH and become a stronger, better-informed advocate for Truth at the same time. Through the end of the year, we are offering the following gift awards:
For your gift of $100 to AFTAH — you will receive one free book or video of your choice from the following list. The more you give, the more educational and teaching resources you get! Here are your choices:
Robert Reilly's book, "Making Gay Okay:

 How Rationalizing Homosexual Behavior Is Changing Everything" [hard cover]; this book is required reading for anyone serious about understanding and opposing the "gay" activist juggernaut using reason, facts and Natural Law. Bob will sign your book if you attend the Americans For Truth banquet Oct. 17, 2015!

[Code: REILLY]

 OR

VIDEO — Janet Porter's wonderful film, "Light Wins"

–loaded with interviews with leading pro-family experts who explain why "same-sex marriage" and the LGBTQ agenda will crush our cherished freedoms. I am one of the many people interviewed in this DVD–which you could show at your church or at your home Bible study! 

[Code: VIDEO]

OR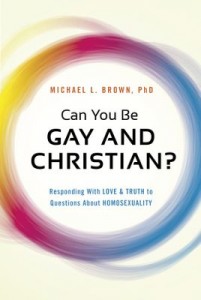 * Dr. Michael Brown's book, "Can You Be Gay and Christian?"

 [paperback]. This is a wonderful resource to help you respond to all the "gay Christian" nonsense and propaganda in our confused culture. Terrific for a church or home study group!

[Code: BROWN-GAY CHRISTIAN?]

 OR
* Dr. Brown's magnificent book, "Something Queer Happened to America": [hard cover] this is like a textbook for studying the multi-faceted "LGBTQ" agenda. The section on Pedophilia (sex with children) alone is worth getting this book.

[Code: BROWN-SOMETHING QUEER]

  OR

* The late Dr. Charles Socarides classic Q&A book, "Homosexuality: A Freedom Too Far,"

 [hard cover] offers practical insights about the cause and treatment of homosexuality from the leading psychologist who fought the homosexual militants' pressure campaign–or dare I say BULLY CAMPAIGN– to "normalize" homosexuality in the American Psychiatric Association in 1973.

[Code: SOCARIDES]

 OR
Dawn Stephanowicz' harrowing book, "Out From Under" — [paperback] telling her story of being raised as the daughter of a promiscuous homosexual man. Very relevant to today's homosexual parenting debates.

[CODE: OUT FROM UNDER]

 OR

Bill Whatcott's autobiographical book, "Born in a Graveyard":

  [paperback] beautifully tells the story of the redemption of Canada's Bill Whatcott, who went from being a criminal to Canada's boldest Christian pro-family activist.

[Code: GRAVEYARD]

  OR
Christian advocate Amber Dee Parker's colorful children's picture book, "God Made Dad and Mom" [paperback] – parents lovingly explain to their child why God intended marriage to be between a man and a woman, not two people of the same sex.

[Code: CHILDREN'S BOOK]
___________________________________________
 
So, here's how it works:
As I said, if you give $100 to AFTAH, you get one book or the "Light Wins" video. You pick!
For your gift to AFTAH of $150  — pick 2 of the above as your gift 
For your gift to AFTAH of $250 — pick 3 of the above
For a gift of $300  — choose any 4 items from the list
For you gift of $400 or more: receive four books of your choice plus the LIGHT WINS video! (5 items total)
For your gift of $500 to AFTAH of $500– receive 5 books of your choice, the "Light Wins" video (6 total items) and a special surprise bonus gift from Americans For Truth!
And lastly, for a $1,000 gift to AFTAH, we will send you all the (8) items above, plus 2 surprise bonus gifts from Americans For Truth!
Send your gift to:  AFTAH, PO BOX 5522, Naperville, IL 60567-5522, and specify your book (s) and/or video. Or GIVE ONLINE: give safely online at www.aftah.com/donate/, where you will find our easy-to-use credit form HERE.ll   Don't forget  to specify your gift choice(s)!
All dollar totals include postage and handling. AFTAH's reliable Brad Wallis will ship your order out expeditiously. Of course, do not feel limited by our gift suggestions–send us more if you'd like!  All your gifts help Americans For Truth to fight the Homosexual/Transgender Lobby!  E-mail Brad at connops@yahoo.com or call him at 312-324-3787.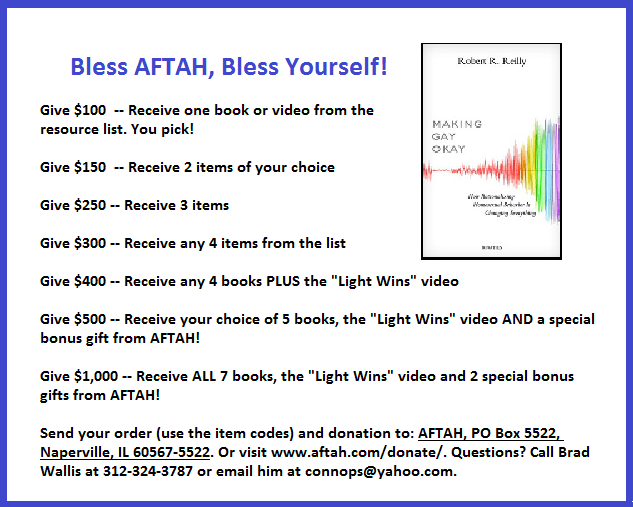 This article was posted on Thursday, September 24th, 2015 at 10:52 am and is filed under
"Civil Unions" & "Gay Marriage"
,
"Gay" Subversion of Institutions
,
"Sexual Orientation"/"Gender Identity" and the Law
,
A - What does the Bible say about homosexuality?
,
Christian Persecution
,
Freedom Under Fire
,
News
,
The Bible, Churches, & Homosexuality
. You can follow any updates to this article through the
RSS 2.0
feed.