Biden once wanted to be a priest; now he mocks his Catholic religion and the Creator of the universe — in the name of "love"
The Obama-Biden administration has been an eight-year commercial for aberrant sexuality and gender confusion–otherwise known as the LGBTQ movement–in defiance of God and wholesome, biblical morality. On August 1, Vice-President Biden "officiated" at a homosexual "marriage" ceremony between two White House staffers, Brian Mosteller and Joe Mahshie, and social liberals everywhere celebrated. More commentary after the jump.
Biden performed the counterfeit "marriage" ceremony at August 1 "inside the vice president's residence, located at the U.S. Naval Observatory," as LifeSiteNews reported. Biden's wife Jill is also a big supporter of "gay rights" (she is a strong supporter of the homosexual activists group GLSEN (Gay, Lesbian, Straight Education Network). The Second Lady offered what has become the familiar, trite mantra for LGBT and pro-homosexual-"marriage" advocates: "Love is Love":

And here is an excerpt of the leftist-leaning, fanatically pro-LGBTQ Huffington Post's take on Biden's blasphemous deed. Note the word "nuance" in the third paragraph (emphasis added–not that Biden supported DOMA (the Defense of Marriage Act):
Vice President Joe Biden achieved a personal milestone on Monday when he served as an officiant at a wedding for the very first time. But the simple private ceremony, which celebrated the love between White House staffers Brian Mosteller and Joe Mahshie, was also a significant moment for Catholics in America.
As a lifelong Catholic and the country's first Catholic vice president, Biden's participation in the ceremony was a poignant reminder of a shift within the American Catholic church towards a more accepting view of same-sex marriage.
While Catholic church leaders have consistently and vociferously denounced same-sex marriage, statistics show that many lay Catholics like Biden have a more nuanced view of church teachings on homosexuality and other matters involving family life. Based on polling conducted by the Pew Research Center, about six-in-ten Catholics (58 percent) say they support same-sex marriage. Nearly half of Catholics (46%) think the Catholic Church should recognize same-sex marriages.
While it's true that support for marriage equality is less likely among Catholics who attend Mass regularly, a look at youth views towards same-sex marriage could be indicative of where lay Catholic America is headed. In a 2014 Pew survey, 85 percent of self-identified Catholics between the ages of 18 and 29 said that homosexuality should be accepted by society. Younger Catholics are also more likely to believe that The Catholic Church should recognize the marriages of gay and lesbian couples.
The vice president's views on gay and lesbian couples have shifted throughout the course of his life. Biden is the child of Irish-Catholic parents who attended Catholic schools as a child and even briefly considered becoming a priest. He's a former supporter of the 1996 Defense of Marriage Act, which prohibited same-sex marriage. But by 2012, he had stepped out in front of President Barack Obama on the matter, endorsing marriage equality in an appearance on "Meet The Press."
____________________________________________
Here are some of my tweets in response to Biden's immoral act: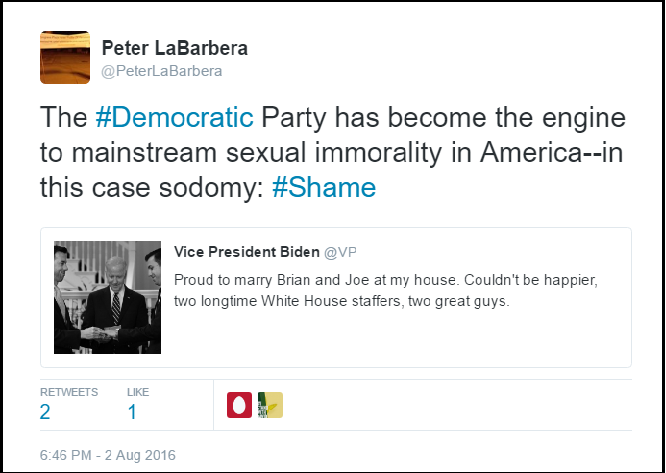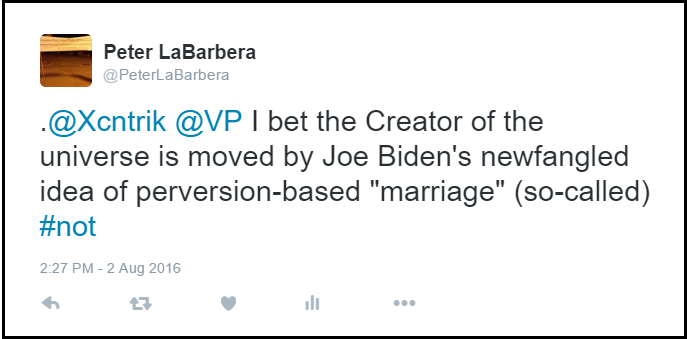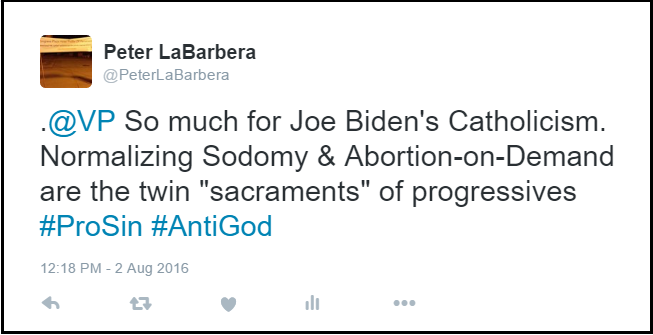 We'll have more on Biden's "progressive" redefinition of Church teaching in future articles.–Peter LaBarbera, AFTAH