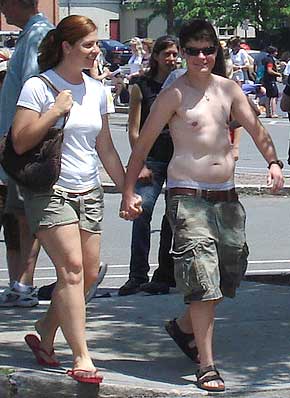 Say No to Taxpayer-Funded "Tranny-Care": No American citizen should be forced to pay for body-disfiguring "sex-change" operations with his or her tax dollars. In this photo, the (biological) woman at right — her healthy breasts surgically removed to match her desired "male" identity — marches in a Boston "transgender pride" parade. Urge your  Congressman and Senators (202-224-3121) to oppose Obama-care, which will end up funding abortions and these hideous "trans" mutilations. Photo courtesy MassResistance.
Folks, take a look at the shocking photo at left and the Idaho Statesman article sent our way by conservative blogger Clayton Cramer — about a transsexual prisoner who received a state-funded "sex-change" operation. I agree with Gary Glenn of American Family Association of Michigan about the absurdity of how words are twisted to accommodate the "trans" agenda.
Glenn remarks:
"One of the both most inane and insidious aspects of the 'transgender' issue is the mainstream media's depiction of delusion as if it were reality…

"She cut off her own testicles."

"She amputated the tip of her penis."

These reporters must either have mush for brains or, in rare cases, feel like total idiots for being forced to report something so obviously inane.

But this is a delusion that the opposition will compel us all by force of law to treat as reality.  And subsidize with our tax dollars.
Read the rest of this article »