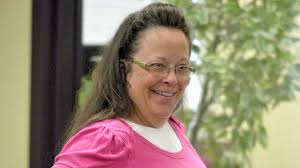 For the record, I wish Pope Francis had more open and direct in his support of Kim Davis as he was in pushing the "progressive" "Climate Change" agenda. Nevertheless, the pro-LGBTQ Left is busy at work trying to nullify the significance of his meeting with Kentucky clerk Kim Davis, and it appears the Vatican through its spokesmen is adding to the obfuscation. Here is Liberty Counsel's full news release on Davis' meeting with the pope. — Peter LaBarbera, Americans For Truth
__________________________________
Facts About Kim Davis's Meeting with the Pope
Oct 2, 2015
Washington, DC – The facts about the meeting with Kim Davis have been told, but we will again set forth the details of the meeting with an additional fact
The meeting with Kim Davis was initiated on September 14. While we do not know everyone who was part of the invitation, we do know that The Apostolic Nuncio of the Holy See to the United States, Archbishop Carlo Maria Vigano, personally spoke with Kim Davis about the invitation. The invitation was for a private meeting with Pope Francis at the Vatican Embassy in Washington, D.C., on Thursday afternoon, September 24. This meeting was a private meeting. No other members of the public were present.
Kim Davis and her attorney, Mat Staver, Founder and Chairman of Liberty Counsel, originally planned to be in Washington, D.C., on Thursday afternoon. But when the unsolicited invitation was extended to Kim and her attorneys, they changed their arrival time to Wednesday evening. On the evening of September 23, Kim Davis received another call about the meeting the next day. She was instructed to wear her hair up because she was so recognizable. Around 8:00 a.m. on September 24, Kim received another call confirming the time of the pickup at 1:15 p.m.
At 1:15 p.m. Staver accompanied Kim and Joe Davis to meet two male security personnel dressed in suits and wearing earphones. Staver confirmed they were seeking Kim Davis. They spoke in heavy Italian accents. Staver accompanied Kim and Joe Davis to a waiting van and remained at the hotel and in regular contact with Kim.
Kim and Joe Davis were placed in a room with no one else present. Later Pope Francis arrived with only Vatican or Embassy personnel and security. He stretched out his hands. Kim clasped his hands, and he asked her to pray for him. She said she would, and she asked the Pontiff to pray for her, to which he said he would. Pope Francis then thanked Kim for her "courage." They embraced. The Pope said, "Stay strong." He then presented Kim and Joe with two Rosaries.
There was no line of people or other members of the public seen anywhere. With Kim being so recognizable, it would have been impossible to keep the visit secret if other members of the public were anywhere near the Pontiff and or Kim Davis.
Read the rest of this article »