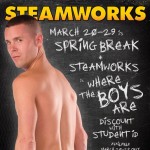 WARNING: Offensive Descriptions of Homosexual Perversions
"Think twice about mixing alcohol and/or recreational drugs with sex. They can reduce your ability to make good decisions and can lead to risky behavior—like having sex without a condom.

"Limit your number of partners. You can lower your risk for STDs if you only have sex with one person who only has sex with you."–"CDC Fact Sheet: What Gay, Bisexual and Other Men Who Have Sex with Men Need to Know About Sexually Transmitted Diseases," last updated Nov. 13, 2014
__________________
By Peter LaBarbera, AFTAH; Twitter: @PeterLaBarbera
If you haven't noticed, most of the media debate surrounding homosexuality–insofar as the media even consider there to be a legitimate "debate"–centers around "marriage" and monogamy. Precious little attention is given to the actual set of behaviors that not only has made–especially male homosexuality–a dangerous lifestyle, but which also provides evidence that homosexualism is precisely what moralists say it is: wrong, perverse and destructive behavior.
Homosexual institutions, organizations and "gay" sex businesses actively recruit young people to join their ranks. Catering to male homosexual sex is big business. Below we have a particularly wicked institution, Steamworks–a Chicago homosexual bathhouse where men go for indiscriminate, anonymous sexual encounters with other men–trying to lure college boys to its debauched premises. This ad ran last week (March 21-29) on the Chicago Steamworks website:
AFTAH has called for the closure of homosexual bathhouses in the interest of protecting the public's health–e.g., women who are infected with HIV by male spouses who secretly engage in homosexual acts on the "down low. " And we have reported on this particular Chicago bathhouse before. It sits in a large, nondescript building on Halsted Street in the heart of the city's homosexual "Boystown" neighborhood (officially demarcated with "gay" rainbow pillars lining the streets). In fact, about a decade ago, I joined some hardy souls in a late-night "protest/Christian witness" outside this bathhouse.
For years, Steamworks has participated in the annual Chicago homosexual "Pride" festivities. It is part of a North American chain of homosexual bathhouses–others are located in Berkeley, California, Seattle, Washington–and in Canada in Toronto, Ontario and Vancouver, British Columbia.
Uber-perversion
What goes on in a bathhouse? I can only know from reading accounts by people who have been there: men young and old pay to get in. They buy a locker for their clothes–$5 off the usual price with a student ID, according to the "Spring Break"ad–and then walk around in a towel, which of course makes it easier to engage in sodomies with complete strangers. Customers can pay extra for a private room.
There is a sauna, showers and hot tub–and surely sodomitic acts occur in all three. Homosexual pornography spews from TVs throughout the building to stoke the hyper-sexual, orgiastic atmosphere. I cannot imagine the hygienic violations at a place like Steamworks but it is telling that in online reviews of this and other "gay" sex clubs, men complain about sticky floors.
The depraved and vile goings-on in bathhouses predictably contribute to the astronomically high rates of STD rates among homosexual men, but the response of government health bureaucrats and researchers to the crisis seems to be to use the bathhouses and "gay" sex clubs as distribution points for condoms and "safer sex" information–rather than to close them down or at least regulate them more tightly. That's sort of like passing out anti-gambling literature at a racetrack but it has been the politically correct "safer sex" mentality for decades.
Read the rest of this article »