Another tragic and untimely homosexual death: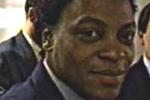 Tyrone Garner, a plaintiff in the historic Supreme Court case, Lawrence and Garner v. Texas (2003), which struck down laws against sodomy in the United States, has died, according to a press release issued by Lambda Legal Defense.
(Also see Tyrone Garner, Plaintiff In Landmark Gay Rights Case Dies and Lawrence v. Texas plaintiff Tyrone Garner dies.)
As of this writing, the cause of death has not been made public.
Very sad.
Update: The Houston Chronicle reports that Mr. Garner died early Monday morning at a Houston hospital, having suffered horribly from meningitis for months.
"Over the last few months, he lost the use of his legs from meningitis," [according to Mark Roy, a spokesman for Lambda Legal.]
This article was posted on Wednesday, September 13th, 2006 at 11:14 am and is filed under
Lambda Legal
,
News
,
Physical Health
. You can follow any updates to this article through the
RSS 2.0
feed.