All emphasis is added by Americans For Truth. The quotes, though frightening, are real but not unexpected from a movement that calls itself "Queer." – Peter LaBarbera
No Cartoons Poking Fun at Homosexuality! … Says GLAAD Thought Police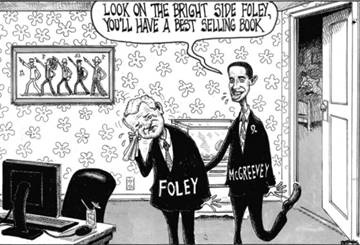 "The New York Post does it again in its October 27 edition. Two days after the New Jersey Supreme Court ruled that discrimination against same-sex couples violates that state's equal protection requirement, the New York Post published a cartoon by Sean Delonas depicting a man carrying a sheep wearing a bridal veil to a "New Jersey Marriage Licenses" window.
"This is the second time in the last three weeks that the New York Post has published a cartoon perpetuating anti-gay stereotypes by the same illustrator. On October 5, the tabloid published a cartoon showing a caricature of Former New Jersey Gov. James McGreevey "comforting" ousted Congressman Mark Foley with the caption, "Look On the Bright Side Foley, You'll Have a Best Selling Book."
"Twice in one month the New York Post has seen fit to publish a repugnant anti-gay cartoon," said Sean Lund, GLAAD's Director of Messaging and Communications Strategy. "It's unacceptable for any publication to platform this type of bigotry."
Write Now! Please write Colin Myler, Managing Editor for the New York Post, at letters@nypost.com and let him know what you think about the Post's decision to publish these defamatory cartoons.
— GLAAD (Gay & Lesbian Alliance Against Discrimination) press release, "New York Post Publishes Second Anti-Gay Cartoon in Three Weeks," Oct. 27, 2006. The first (Oct. 5) cartoon that touched off GLAAD's ire is below.
TAKE ACTION: We suggest you follow our lead by writing to the NY Post and telling them not to be intimidated by the oh-so-serious Thought Police over at the ironically named GLAAD. Tell the Post that Sean Delonis' cartoons are funny and completely appropriate given the latest scandals plaguing homosexual politicians, and the natural discomfort that most people have with the radical concept of homosexual "marriage."
Can't Teach Kids that Homosexual Behavior Leads to Hell?
"The religious leaders who support Hell Houses believe that by scaring youth into 'good' behavior they are saving their souls. However, the report includes examples of the tragic impact of the message that 'homosexuals' are going to hell can have on youth, including the story of Bobby Griffith, a gay teen who wrote in his journal that he was afraid he was going to hell and who eventually committed suicide. Research cited in the report indicates that higher rates of suicide among gay and lesbian youth can be attributed in part to anti-LGBT messages that make them feel that something is fundamentally wrong with who they are."
— National Gay and Lesbian Task Force press release, Oct. 27, "New report titled Homophobia at Hell House reveals how the right wing fuels homophobia, demonizes lesbian and gay youth."
Church Leaders, Not Homosexuals, Should be "Ashamed"
"The Hell House phenomenon is yet another example of the dangerous and extreme tactics used by the religious right to indoctrinate youth with lies and misinformation about lesbian, gay, bisexual and transgender people. Church leaders who sponsor Hell Houses should be ashamed of contributing to the climate of anti-gay harassment and violence that mercilessly threatens the safety and well-being of LGBT youth on a daily basis."
— Matt Foreman, Executive Director, National Gay and Lesbian Task Force, commenting in same press release, Oct. 27, 2006.
Teaching about Hell Violates New Testament?
"Have the churches that sponsor Hell Houses forgotten that the New Testament teaches us to 'love your neighbor as yourself?' Have they forgotten that Jesus taught that we must love and include everyone? Cloaking hate in Christian language does not mean that it is not hateful or harmful. Religious leaders know that sexual difference is a blessed part of our endowment. These Hell Houses are fear-based education at their worst; their homophobic and anti-choice messages must be exposed."
— "Rev." Debra W. Haffner, Director, Religious Institute on Sexuality, Morality and Healing, quoted in same release. Haffner is a member of the Task Force's "National Religious Leadership Roundtable," a strategy to co-opt religion to support, rather than condemn, homosexual practice.
Lawsuit Coming for School that Won't Let Kevin Go to Prom in a Dress?
WASHINGTON (June 5, 2006) – At a time when most high school seniors are deciding what to wear for their walk down the aisle to "Pomp & Circumstance," Kevin Logan is considering possible litigation against his school. West Side High School in Gary, IN banned Logan from his senior prom and is debating his participation in graduation as well — because he prefers to dress in female attire.
"Every year teens like Kevin are bullied — and even killed — simply because they don't conform to gender norms. A recent University of Illinois study showed that about 1-in-5 students have seen peers who are not masculine or feminine enough physically assaulted," said Tyrone Hanley, Youth Program Coordinator for the Gender Public Advocacy Coalition. "Instead of publicly punishing Kevin, West Side High School should be sending a strong message that their school is a safe place for all students to learn, grown and succeed."
Logan (18) was banned from attending prom by Principal Diane Rouse when he arrived in a formal dress and heels.
— Press release from Gender Public Advocacy Coalition, June 6, 2006, "Dress Means No Prom, Graduation for High School Boy."
AFT Note: While we certainly don't condone violence against anyone, we also don't think schools should be bullied into allowing and promoting gender confusion by the threat of lawsuits from radical activist groups like GenderPAC.
They Have Decided, So Who Needs Democracy?
"Our decision today significantly advances the civil rights of gays and lesbians. We have decided that our State Constitution guarantees that every statutory right and benefit conferred to heterosexual couples through civil marriage must be made available to committed same-sex couples."
— Part of Oct. 25 ruling by New Jersey Supreme Court forcing the state legislature to grant either "civil unions" (homosexual "marriage" by another name) or outright "gay marriage" within 180 days. Incredibly, not one judge of the seven judges argued against radically redefining marriage or its benefits beyond a man and a woman (the dissenting judges favored full "gay marriage"). To see who appointed these rogue judges, click on the AFT story, New Jersey Supreme Court Recommends Appeal to Fellow Citizens; How Shall We Respond?
Mel Knows Better than the Bible: Homosexuality Is a "Gift from God"
" 'Dr. White,' [a male freshman Texas A&M student who heard Mel White speak] whispered, 'how can you be sure that God loves you?' It was his way of asking how could I accept my homosexuality as a gift from God when the significant people in his life had warned him that homosexuality was a sickness and a sin.
"In Step #4 we were reminded that each of us is created as a sexual being. Whatever our sexual orientation (or the color of our skin or the shape of our nose), it is not a sickness to be healed nor a sin to be forgiven. Our sexuality is an integral part of our body and soul, a gift from our Creator to be lived with joy and integrity.
"Trust your heart, "Aggie" freshman. Don't let the anti-homosexuals wear you down. You are a homosexual. Accept that NOW and move on. Even more you are a homo-spiritual. Don't get caught up in the 'gay culture' that measures beauty in biceps and pectorals. Develop your soul-force. It is the size of your spirit not the size of your pecs that will make the difference."
— From The Original 17 Step Journey: Step 6 With the Rev. Dr. Mel White,"CREATING A SOULFORCE CREDO ABOUT YOURSELF" on the Soulforce website. White is a former evangelical Christian writer.
"Queerly Canadian," Indeed: U. of Toronto Teaches Sadisim as a Class
From the "we-couldn't-make-this-up-if-we-tried" department. Only the "gay" academic movement could come up with something this wacky. But hey, why not? It's just another "sexual orientation."– Peter L.
The following is excerpted from Students Role-play Sadomasochism in Toronto University's Sexual Diversity Program , by Gudrun Schultz, published Oct 26, 2006, by LifeSite News:
University of Toronto students in the Sexual Diversity Studies Program explore sadomasochism, bondage and domination as part of an "academic" approach to gay, lesbian, bisexual and transgender issues, Reuters reported October 20 ….
"It's not sexy sex sex, where we're talking about whips and chains, but we will talk about whips and chains," graduating student Robbie Morgan told Reuters. "We'll talk about whips and chains in a political, social, cultural, religious context of sexuality and how that sexuality affects those institutions."
Program director David Rayside told Reuters the content emphasis is often misunderstood.
"It's a very serious analytical exercise and it isn't what a lot of people think it is."
Program courses include an arts and literature course called 'Queerly Canadian,' and a drama class called 'Sexual Performance: Case Studies in S/M (sadomasochism).'
"Visiting lecturers will address technical aspects of flogging, restraint, and role-play," the University's website course description explains. "Students will 'research' questions (e.g. what constitutes coercion? Consent? Control? Submission? Can sexual practices transform our understanding of power?) by the optional performance of selected scenes."
"Queerly Canadian" asks students to look at how a "queer" perspective of identity could contribute to an "alternative national politics."
— Thanks to Lifesite.net for exposing this folly; see AFT's repost: "Queerly Canadian," Indeed: Students Role-play Sadomasochism in Toronto U.'s "Sexual Diversity" Program.
Focus Publishes "Anti-Gay Pornography"?
"Over the past decade, [Focus on the Family's] Citizen magazine has devolved into a monthly 32-page screed attacking gay people. Shorter, but no less soaked in prejudice, are the group's direct mail pieces. While railing against nude images in print and broadcast media, the organization engages in a kind of antigay pornography meant to incense and titillate its readership."
— Hans Johnson, writing a screed against Dr. James Dobson, "The Role of the Religious Right in the Foley Affair," for the website of the leftist magazine, "In These Times," Oct. 12, 2006.