By Peter LaBarbera
The National Gay & Lesbian Task Force, a leftist homosexual organization, honored Frank Kameny at its 2006 Creating Change conference Nov. 8-12 in Kansas City, Missouri. At the event, Kameny referred to Christians with venom, calling them "Christianofascists" and "nutty fundamentalists," according to an Americans For Truth reporter who attended the conference and heard his acceptance speech.
The author of the "gay is good" slogan, Kameny–whose papers have just been accepted by the Library of Congress and the National Museum of American History–also told conference attendees that "gay is moral and virtuous," as part of his ongoing crusade to redefine ancient moral truths through catchy activist slogans.
I've known Kameny for years. I respect his zeal, but loathe his ideology, just as he loathes mine. He is brilliant but wasted his considerable intellect and talents on homosexual activism, which is a shame. Like others in the pro-family movement, I have been on the receiving end of Kameny's angry and pointed letters, or should I say screeds, in which–if my memory serves–he would repeat his patented slogan, "Gay is good," followed by, "Gay is godly. You are neither." Kameny is a feisty old bird who agreed to sit down with me and Ken Ervin for an extended interview back when Ken and I were both working at Family Research Council in Washington, D.C. One of the things we learned in that interview is that Kameny is an atheist, which makes his "gay is godly" assertion a tad disingenuous. But hey, anything to advance the homosexual cause, right?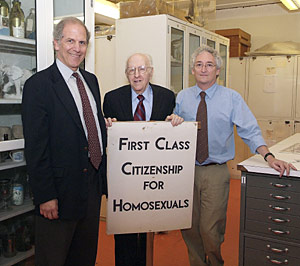 From the Smithsonian website: Dr. Franklin Kameny presents a picket sign to Brent D. Glass, Director of the National Museum of American History and Harry Rubenstein, Chair and Curator, Division of Politics and Reform, National Museum of American History. Photo: Harold Dorwin
We'll have more about Frank Kameny later, but suffice it to say that this man with a penchant for anti-Christian bigotry and questionable sloganeering does not deserve to be honored as a "civil rights" pioneer by America's national library. Somehow my mind just can't get around the idea of putting Dr. Martin Luther King and Rosa Parks and Harriet Tubman in the same category, historically speaking, with a homosexual and "fervent atheist" who says "gay is godly" and "gay is moral and virtuous," just to sock it to the Christians.
TAKE ACTION – If you agree that Frank Kameny's dishonorable legacy and outspoken bigotry against Christians is not worthy to stand alongside the noble legacy of great Americans like Frederick Douglass, Thomas Jefferson and Abraham Lincoln, please call or write these officials:
From the Task Force's Creating Change conference daily report dated Nov 10, 2006:
"When we identify the founders of our movement, Frank Kameny leaps immediately to mind. Frank was among the women and men who in the 1950s and '60s risked everything to not only be out and open about their sexual orientation and gender identity but also to be among the very first advocates for our freedoms," said Task Force board member Mario Guerrero, development and public affairs director of BIENESTAR, in introducing Kameny."
Mario Guerrero went on to say of Kameny:
"Frank challenged the federal government when he was fired from his job in 1957. When he was rebuffed by the U.S. Supreme Court, which refused to hear his case, he kept right on going and founded the Mattachine Society of Washington in 1961. In 1965, he led the now-famous demonstration in front of the White House in one of the first public demands for fairness and equal treatment for LGBT people. In 1968, Kameny coined the phrase 'gay is good.' In 1971, Kameny founded the Gay and Lesbian Activists Alliance, a still-thriving advocacy organization in Washington, D.C.," said Guerrero.
During the weekend, Kameny expanded on his phrase "gay is good" by explaining:
"It's not enough when they say 'gay is bad' to say 'gay is not bad'; you must take the next step and say 'gay is good.'
"Likewise it is not good enough when they say 'gay is immoral' to say 'gay is not immoral'; you must take the next step and say 'gay is moral and virtuous.'"
Continuing, the daily report says:
"The tireless Kameny, a founding board member of the then-National Gay Task Force in 1973, told the audience that our movement has "come a very long way in a very short time. But we still have issues to fight; the job is far from done."
A note from AFT: The National Gay and Lesbian Task Force apparently didn't care to publicize Kameny's actual remarks. Kameny called Christians "nutty fundamentalists" and warned the 1,000+ homosexual activists present to remember that "Christianofascists" burned heretics and that they would like to "burn us, too" and would do it if they could, according to a member of Americans For Truth who attended "Creating Change." Kameny added that Christians are "after us vigorously" and that homosexuals must "do something," must "keep on fighting."
Kameny also bragged that his letters and protest signs would now reside in the same collection as the desk that Thomas Jefferson used to draft the US Constitution, in the same collection as the implements used by Abraham Lincoln to craft the Emancipation Proclamation.
The Task Force daily report concludes:
"Supported by the Anderson Prize Foundation, the Task Force is proud to make a donation of $7,500 to the Kameny Papers Project which is essentially a managed fund for Kameny that was put together by those who love and care about him. The Kameny Papers Project enabled the purchase and donation to the Library of Congress of Kameny's archive of more than 70,000 letters, documents and memorabilia collected over his decades of activism."