Excerpted from Democrats Shopped Foley Story to Newspapers, by Christina Bellantoni, published Dec 12, 2006, by The Washington Times:
Democratic campaign operatives pushed newspapers to write about then-Rep. Mark Foley's e-mails to teenage pages in the hope that a scandal would emerge before the midterm elections, according to a House ethics report.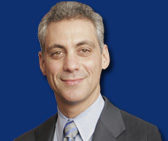 The findings were bolstered when an aide to Rep. Rahm Emanuel (pictured right), Illinois Democrat, said the congressman also knew about the e-mails, which were dubbed "inappropriate" by the ethics panel. Mr. Emanuel, who was chairman of the Democratic Congressional Campaign Committee (DCCC) when Mr. Foley's sex scandal broke in late September, had denied knowledge of the Florida Republican's e-mails.
…CNN first reported Saturday that Mr. Emanuel, the incoming chairman of the Democratic caucus, was "informed" but never saw the e-mails that Mr. Foley sent to a former page in the summer of 2005.
An Emanuel aide yesterday confirmed to The Washington Times that DCCC staffer Bill Burton told the congressman about the Foley e-mails in fall 2005. The aide said Mr. Emanuel took no action because the e-mails were mentioned in passing as a "rumor" about Mr. Foley.
On Oct. 8, Mr. Emanuel was put on the spot during his appearance on ABC's "This Week."
"Did you or your staff know anything about these e-mails or instant messages before they came out?" host George Stephanopoulos asked. Mr. Emanuel interrupted with "No."
"George — Never saw 'em," he said twice.
When Rep. Adam H. Putnam, chairman of the Republican Policy Committee and a guest on the show, started questioning Mr. Emanuel, the DCCC chairman blanched.
"What you guys want to do is take your dirty laundry and throw it over the fence and try to blame other people for the problems," Mr. Emanuel told the Florida Republican.
Rep. Patrick T. McHenry, North Carolina Republican, called the news "stunning," and accused Mr. Emanuel of letting a "predator roam free" for "cold, calculated political advantage."
…The panel found "political considerations played a role in decisions that were made," and theorized Republicans didn't act for fear of exposing Mr. Foley's homosexuality.
Continue reading in The Washington Times…