Excerpted from Policy Changing After Gay Porn Studio Lauded, by Cecilia M. Vega, published Mar 3, 2007, by San Francisco Chronicle: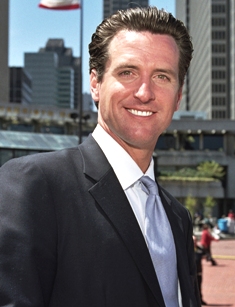 San Francisco Mayor (pictured right) Gavin Newsom's administration will change its policy on issuing laudatory proclamations after a gay porn studio was honored last week without the mayor's knowledge, city officials said Friday.
Conservative activists and pundits nationwide belittled the city after Newsom's office declared Feb. 23 to be Colt Studio Day, honoring the 40th anniversary of a San Francisco movie company whose Web site invites visitors to "come inside to experience the hottest man-on-man action."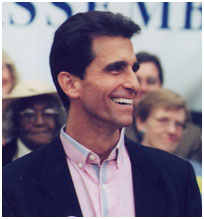 …The proclamation was written by Neighborhood Services staffers after they learned state Assemblyman Mark Leno (pictured left), D-San Francisco, and city Treasurer Jose Cisneros had issued similar commendations.
Neither of those elected officials expressed regrets Friday.
Leno attended the company's anniversary party Feb. 23 and publicly thanked Colt Studio for producing images he said contributed to his development as a gay man. On Friday, he issued a statement saying Colt produces "adult, gay, male home entertainment."
"The owners of the studio are taxpaying, law-abiding San Francisco employers who promote safe sex," Leno (pictured left) said. "With a war out of control and the planet's temperature rising, I would have hoped Bill O'Reilly had more pressing issues to discuss. Clearly, with his viewership currently plummeting, he thinks denigrating gay male entertainment will be his lifeline."

Cisneros (pictured right), who sent a representative to the anniversary party, said Friday that issuing a proclamation to Colt Studio "was fine. We acknowledged a business that has been in business for a long time."
…O'Reilly also chastised city officials Tuesday during his show "The O'Reilly Factor."
"There is not another city in the country that has ever had a 'gay porn day,' " he said. "And you wonder why San Francisco values is mocked and your city is mocked and it's looked upon as a modern-day Sodom and Gomorrah."
This is the second time in recent months that the pornography business in the city has been in the news. In December, the online porn company Kink.com bought the old armory on Mission Street, where it now films X-rated bondage videos…
Continue reading at San Francisco Chronicle…