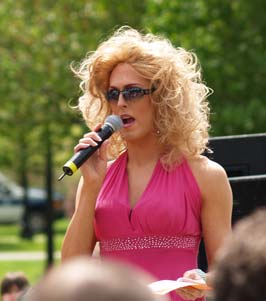 Drag Queens as Role Models? This is a man, but he goes by "Raquel Blake" and served as the Master of Ceremonies at the Boston homosexual "youth pride" event–subsidized by the taxpayers through the Massachusetts "Commission on Gay, Lesbian, Bisexual, and Transgender Youth." One leader celebrated how, for the first time, the (Democratic) Massachusetts governor's proclamation in support of "youth pride" mentioned "transgender and bisexual" youth.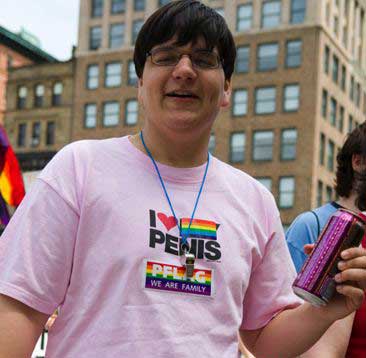 Porno PFLAG: Another wholesome role model for children….The shirt worn by this man reads, "I [Heart sign] Penis; PFLAG: We Are Family"; PFLAG (Parents, Families and Friends of Lesbians and Gays) is a national parents group that erroneously believes that the way to properly love a "GLBT" child is by affirming his or her choice to live in a homosexual, bisexual or transgendered lifestyle. Why are PFLAG and other homosexual groups so reckless in exposing children to promiscuous and perverted sexual messages?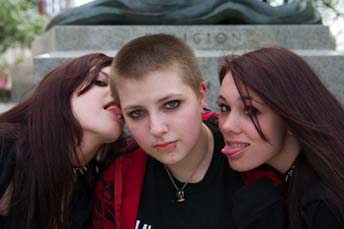 Faces of Lesbian Youth Pride: Remember when kids "hamming it up" meant making funny faces? Here's the modern, Massachusetts homosexual "youth pride" version: three girls act out lesbian lust for the camera. Yes, children are corrupted when educators and the state promote the acceptance of homosexual behavior and gender confusion.
Is it really "loving" to confirm teenagers (or even pre-teens) as "gay, lesbian, bisexual and transgendered" — without, of course, informing them about the ramifications of those lifestyles? Should the government promote transsexualism (cross-dressing) and bisexuality to young people as normative behavior? On THIS LINK, MassResistance exposes the annual homosexual/bisexual/transgender "youth pride" event in Boston.
You need to see this, even if it takes you FAR from your "comfort zone"! This is where self-styled "queer" activists and their liberal allies want to take the nation: full governmental support for the promotion of radical and dangerous sexual/gender behaviors to impressionable children, organizing through the public schools. Please take the time to view the video and photos on my friend Brian Camenker's MassResistance website (scroll down a tad for the video), then pass this on to a friend. Get informed, then get involved to stop the corruption of our young people.– Peter LaBarbera
MassResistance writes:
=== 1.  View the photos (and video): Homosexual "Youth Pride" event in downtown Boston was worse than you could imagine.  Your state government at work. (No wonder the Governor wouldn't be there!)  ===

"Love, simply love. Love, simply love."  That's the message that was pumped over the loudspeakers at the homosexual lobby's annual "Youth Pride" Day, May 12. And that was just the beginning.

The annual "Youth Pride" event is a kind of "meet and greet" for the homosexual "Gay Straight Alliance" clubs in high schools (and middle schools) across Massachusetts. It's where the adult activists bring all the kids to one place for an entire day each year. They mingle with all kinds of very weird adults, many apparently quite disturbed.  As in past years, it started with speeches and a carnival of sorts at noon. Then a parade of the kids and adults through the streets of Boston. Later, they all went to the "transgender prom" in the main interior of Boston City Hall, compliments of Mayor Menino.

It's pretty ghastly to look at. To say this was a sex offender's candy store is not an exaggeration. This year there were more weird adults mingling everywhere — lots of them official guests of the organizers.  The "transgender" element was everywhere — cross-dressing men and women trying to become men. And you could tell that many of the kids were very confused and vulnerable. Kids were encouraged to act out their "gayness" and feel "safe" doing it.

Gov. Deval Patrick, a public supporter of the homosexual movement in Massachusetts, declined to attend this event because of its reputation for depraved activity with children. That turned out to be a good choice for him (tho not for the kids).

But official state support was everywhere. The Governor released an official state proclamation, which was read over the loudspeakers. The new head of the Massachusetts Department of Public Health (a man "married" to another man) gave a speech. The police were there for "security" and cleared the streets for the parade. And it was organized by the new super-charged "Massachusetts Commission on Gay, Lesbian, Bisexual, and Transgender Youth" created by the Legislature last year.

Take a look for yourself at our report [this link takes you to several others about "youth pride"]: http://www.massresistance.org/docs/events07/youthpride07/index.html
This article was posted on Monday, May 21st, 2007 at 4:01 pm and is filed under
BAGLY (Massachusetts)
,
Bullying & Victimhood
,
Diversity & Tolerance Propaganda
,
E - Praying for the Lost
,
Gender 'Fluidity' (Confusion)
,
GLBT Youth Centers
,
GLBTQ Targeting Youth and Schools
,
GLSEN
,
Government Promotion
,
Lesbianism
,
Massachusetts
,
News
,
Promiscuity
,
Youth and School Related Organizations
. You can follow any updates to this article through the
RSS 2.0
feed.