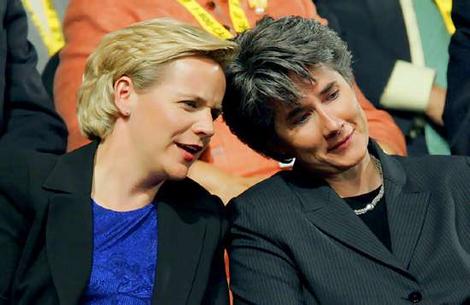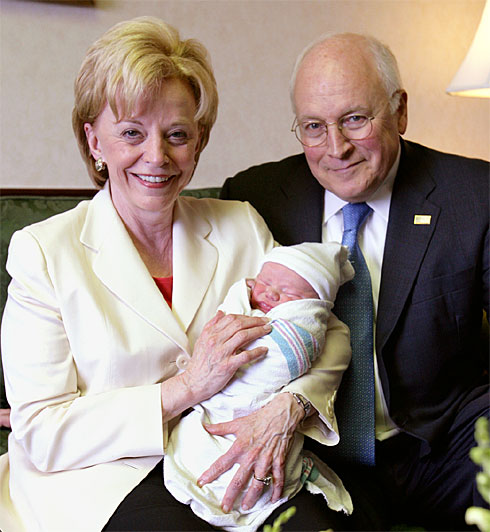 Mary Cheney and partner Heather Poe at left;
Today's USA Today reported the birth yesterday of Samuel David Cheney, with the following caption under the White House photo at right above (click HERE to enlarge):
"U.S. Vice President Dick Cheney and wife Lynne Cheney hold their sixth grandchild, Samuel David Cheney, born Wednesday in Washington. His parents are the Cheneys' daughter Mary, and her partner, Heather Poe."
There should be no touch of sadness when a healthy baby boy is born into a home with two parents, but in this case, we're afraid, there is.
While we celebrate new life, we cannot celebrate homosexual parenting –– which involves intentionally denying a child either a mom or a dad. In this case, young Samuel David –– who, as a Cheney, will surely enjoy privileges and comforts greater than most children born in 2007 –– will be missing an irreplaceable one: a father, to have as a loving guide, male authority, friend and role model as he grows from boy into man.
The pro-"gay" media have an odd way of reporting stories like this, as if both Mary Cheney and Heather Poe were involved in the baby's conception. To do otherwise, I suppose, would call unwanted attention to the unnaturalness of the enterprise known as "gay parenting." And yet, the truth remains: two homosexuals cannot create a baby. Heterosexuality — i.e., the people derided in the early days of "gay liberation" as "breeders" — must be involved.
The USA Today reports that Vice President Dick Cheney has "bristled at questions on the topic." But he and Mrs. Cheney, an ardent foe of political correctness, and a conservative, should know that there is nothing wrong with asking critical questions about something so patently wrong –– and against Nature, common sense, and God's wonderful design of the family itself –– as parenting that is fatherless or motherless by design.
We will keep on asking those tough questions, all the while praying for this boy, and that both Mary Cheney and Heather Poe will join Charlene Cothran and the many women who have come out of homosexuality, which surely is not God's plan for their lives. — Peter LaBarbera