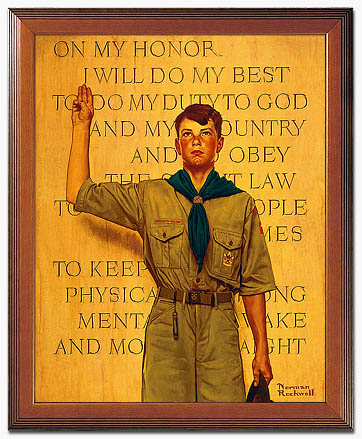 Shame on the Philadelphia City Council.
By Robert Knight, Human Events Online, July 2, 2007 
Philadelphia has big city problems.
The murder rate is on the rise, and gangs make some areas unsafe even in the daytime. It's no secret that fatherless, undisciplined boys are the main reason the streets are deadly.
So what is the city doing about it? Let's imagine for a moment that we're in a Philadelphia City Council discussion.
"How about a crackdown on gangs? Or a crackdown on drug dealers?"
"Nah. Those people shoot back. I've got it! Let's persecute the Boy Scouts! They won't give the police any trouble."
"Yeah, this will be a great way to pay back those gay groups for donating to our campaigns. The media will love us, too. Watch how they'll frame this: 'Enlightened Officials Reign in Hateful, Bigoted Boy Scouts!' Good for us! Now, let's take a Starbucks break!"
So it was that on May 31, the real-life City Council, without debate, and under pressure from an organization that promotes the rights of "sexual minorities," stabbed the Scouts in the back. They voted 16 to 1 to break a 79-year-old agreement allowing the Cradle of Liberty Council of the Boy Scouts to occupy a building in a city park. The Scouts built the building in 1928, and turned it over to the city in exchange for a rent-free lease "in perpetuity." Apparently, "perpetuity" in Philadelphia now means, "until gay groups boot you out." The Scouts can stay only if they will open their ranks to open homosexuals.
Sexual immorality is now the moral high ground in Philadelphia, and the Boy Scouts are the bad guys. Does anyone with clout in Philadelphia see why this is monstrously wrong? Let's be generous and assume that lots of people still don't know about this. The story was ignored by all the networks except Fox News Channel, and the local press didn't even put it on the front page.
Click HERE to read the entire story by Bob Knight in Human Events Online
This article was posted on Monday, July 2nd, 2007 at 5:21 pm and is filed under
ACLU - Gay & Lesbian Project
,
Boy Scouts
,
Bullying & Victimhood
,
Diversity & Tolerance Propaganda
,
GLBTQ Targeting Youth and Schools
,
Government Promotion
,
Homosexual Pedophilia & Pederasty
,
Media Promotion
,
National GLBTQ Activist Groups
,
News
,
Youth and School Related Organizations
. You can follow any updates to this article through the
RSS 2.0
feed.