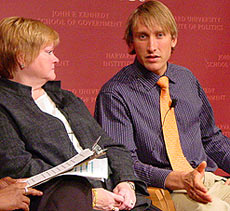 Michael Glatze with pro-homosexuality activist Judy Shepard in his former life as a "gay" activist, speaking at a 2005 Kennedy School forum. Glatze can be reached at [email protected].
By Peter LaBarbera 
Today, when Americans celebrate their freedom and independence, a man living in Canada is cherishing a more profound liberty — from spiritual bondage to homosexual sin. Michael Glatze, a former rising star in the "gay" movement — and co-founder of "Young Gay America" magazine — publicly "came out" of homosexuality on the web pages of WorldNetDaily yesterday. Click HERE for WND's breaking news story about Glatze.
Concerned Women for America has a wonderful online interview with Michael Glatze, which you can listen to by clicking HERE. (The set-up page for the CWA interview is HERE. Glatze can be reached at [email protected].)
In his WorldNetDaily column, "How a Gay Rights Leader Became Straight," Glatze writes:
Part of the homosexual agenda is getting people to stop considering that conversion is even a viable question to be asked, let alone whether or not it works.

 

In my experience, "coming out" from under the influence of the homosexual mindset was the most liberating, beautiful and astonishing thing I've ever experienced in my entire life….

 

I believe that all people, intrinsically, know the truth. I believe that is why Christianity scares people so much. It reminds them of their conscience, which we all possess….

 

As a leader in the "gay rights" movement, I was given the opportunity to address the public many times. If I could take back some of the things I said, I would. Now I know that homosexuality is lust and pornography wrapped into one. I'll never let anybody try to convince me otherwise, no matter how slick their tongues or how sad their story. I have seen it. I know the truth.
I suspect that most people — Christian and non-Christian alike — would cheer Glatze's transformation, if the dominant media would dare report it fairly. But the pro-homosexuality crew at ExGayWatch is all in a tizzy. For them and all homosexuality advocates, Michael's rejection of their lifestyle poses a problem, as it undermines the central "gay" lie (myth) of our age: that "being gay" is intrinsically "who a person is," and that homosexuality is morally neutral. (Most argue that it is innate, and now the homosexual "christian" movement mischievously asserts that this "orientation" is a gift from God.) 
Glatze's story is more evidence that homosexuality is what a person does, and how he lives, and that lifestyle/behavior can be changed. If God through Jesus Christ can rescue sinners from drug, alcohol and pornography addictions, how can we deny His power to rescue homosexuals?
I and others have warned Glatze of the hateful, not-so-"gay" attacks that will be coming his way, now that he's defected from the "gay" lobby's team, as it were, to God's. Sure enough, in one of the posts about Glatze on Warren Throckmorton's blog, ExGayWatch's Timothy Kincaid uses Glatze's Christian transformation to recollect the 1978 Jonestown, Guyana mass murder (think Kool-aid and crazed cultist Jim Jones). Thanks for that helpful insight, Tim. 
Michael Glatze told CWA that he left an outgoing message on his computer at "Young Gay America" (the magazine's website, www.ygamag.com, was down at press time): "Homosexuality equals death. I choose life." He made the right choice, but God, it seems, was also doing the choosing. Pray for this young man as we thank God for His gracious work in one repentant sinner's life — a testimony of what He can do in this nation if we as a people humble ourselves, reject worldly agendas, and return to following Him.
This article was posted on Wednesday, July 4th, 2007 at 7:52 am and is filed under
A - What does the Bible say about homosexuality?
,
Authors & Journalists
,
B - Ex-Homosexual Testimonies
,
Born that Way?
,
Canada
,
D - GLBTQ Pressure Within Churches
,
E - Praying for the Lost
,
GLBTQ Targeting Youth and Schools
,
GLSEN
,
Hateful Homosexual Attacks on Ex-Gays
,
Homosexual Hate Speech
,
National GLBTQ Activist Groups
,
News
,
Pro-Homosexual Media
,
The Agenda: GLBTQ & Activist Groups
,
The Bible, Churches, & Homosexuality
,
Youth and School Related Organizations
. You can follow any updates to this article through the
RSS 2.0
feed.