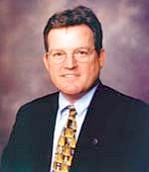 Ft. Lauderdale Mayor Jim Naugle held yet another extraordinary press conference Tuesday, in which he called on the Florida tourism officials to stop promoting homosexual bathhouses — places where men go for anonymous sex with other men — as part of their marketing to homosexuals. 
You can watch portions of Mayor Naugle's statement on the Sun-Sentinel website (click on the main video). On the same website — go to the third video on the right: "Mayor Naugle's latest press conference turns heated" — you can watch another video in which homosexual activist Michael Rajner of the Campaign to End AIDS begins yelling to drown out the comments of pro-family activist Janet Folger. For more on Rajner's ugly, intolerant antics, see our story HERE.
Of course, Rajner's was rewarded for his anti-First Amendment bullying by being given his own one-on-one web interview by the Sun-Sentinel! (Click the second video, innocuously titled, "Reaction to Mayor Naugle's press conference.")
Not surprisingly, the Sun-Sentinel appears to be trying to belittle Naugle's claim that public sex and reckless, homosexual sex-club activity is a serious public health problem. However, our story, "Homosexual Male 'Cruising' Site Lists 13 Pages of Anonymous Sex 'Hook-up' Locations in Ft. Lauderdale Area Alone" — which lists two 24/7 "gay" bathhouses operating in the city — makes clear that there is a real network of organized promiscuity (WARNING: HIGHLY OFFENSIVE MATERIAL). 
The following are excerpts of the Sun-Sentinel story — which does not mention bathhouses at all:
Mayor Naugle, other speakers attack gay sex
By Brittany Wallman | Sun-Sentinel.com
7:46 PM EDT, August 21, 2007
FORT LAUDERDALE – Mayor Jim Naugle and several religious leaders held a news conference Tuesday to draw attention to what they described as the moral and health risks of gay sex.
Naugle is at the center of a political war between gays and religious conservatives that started earlier this summer when he said public bathrooms in Fort Lauderdale are plagued by gay men cruising for sex and said he uses the term "homosexual" because "most of them aren't gay. They're unhappy."
At a news conference in front of City Hall on Tuesday, Naugle and other speakers called on gays to end promiscuous sex in order to stem Broward County's HIV/AIDS crisis. Though the health department has no statistics concerning how many cases of HIV are contracted via sex in public bathrooms or parks, Naugle has tied the two issues together.
He said he has learned a lot about HIV/AIDS since the controversy began in July, and he's motivated to speak out against gay sex in public places not by religious beliefs but by "public health."
"I think Broward County is forever changed from this exercise," he said. "We are going to have less of this activity and I think we're going to save some lives in this county."  …
Dr. John Diggs, an internist from Massachusstts and author of a paper titled "The Health Risks of Gay Sex," [this link was not provided in the Sun-Sentinel's web story] said he traveled to Fort Lauderdale to back up the mayor. Diggs is outspoken on the issue of gay sex and homosexuality.
"It should be clearly seen that homosexual acts have a key role in the spread of all sexually transmitted diseases," Diggs said, adding that "homosexuality is an act, it's not the nature of a person."
Broward County's Health Department (http://www.browardchd.org/) reports that women — African-American heterosexuals in particular — make up a large portion of newly reported HIV cases. Diggs said that could be attributed to men on "the down low," that is men in heterosexual relationships who engage in gay sex and infect their wives or girlfriends.
In the audience [it was actually a press conference–Editor], gay activists said the speakers were using the HIV/AIDS issue to stigmatize gays and condone violence against them.
As Folger spoke, one man's voice drowned out her comments.
"This is unacceptable!" shouted Michael Rajner, of Broward County, president of Campaign to End AIDS. "You're using the Bible as a weapon against the community! And this is wrong!"
Rajner, 36, said he contracted HIV in New York and has lived 12 years with AIDS.
"You are demonizing AIDS!" He shouted.
My heart goes out to you, sir," Folger answered, attempting to continue her speech.
"Every hate crime that comes out of here is at your feet!" shouted Niedwiecki, holding a printout of a story about the murder of Kenneth Cummings Jr. in Houston, whose suspected killer told the Houston Chronicle last month that he was sending Cummings to Hell because he was gay….
Click HERE to read the entire Sun-Sentinel article and watch the videos of Mayor Naugle's press conference and Rajner's selfish disruption
This article was posted on Wednesday, August 22nd, 2007 at 11:02 am and is filed under
A - What does the Bible say about homosexuality?
,
Activists
,
Bathhouses
,
Christian Persecution
,
Down Low
,
Freedom Under Fire
,
Government Promotion
,
Health & Science
,
Homosexual Hate
,
Homosexual Hate Speech
,
Homosexual Pornography & Film Festivals
,
Media Promotion
,
News
,
Physical Health
,
Pro-Homosexual Media
,
Public Indecency
,
Public Sex in Your Neighborhood?
,
South Florida
,
The Agenda: GLBTQ & Activist Groups
. You can follow any updates to this article through the
RSS 2.0
feed.