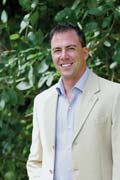 For Michael Rajner, tolerance is a one-way street. 
By Peter LaBarbera 
If an honest historian ever writes an objective history of homosexual activism in America, he or she will have to document many incidents of the sort witnessed (and enabled) by reporters in Ft. Lauderdale, Florida on Tuesday.
At the press conference in support of Mayor Jim Naugle's opposition to male-on-male "public sex," HIV-infected Michael Rajner of the "Campaign to End AIDS" (or was that the "Coalition to End Others' Free Speech Rights"?) decided he didn't like what pro-family advocate Janet Folger of Faith2Action was saying in support of Naugle.
So Rajner did what radical homosexual activists have done for years (think way back to Anita Bryant getting a pie in the face …): he began shouting over Folger, who was speaking at the microphone, drowning out her message and disrupting the Mayor's press conference. (He even accused Folger of "demonizing AIDS!") The media didn't seem to protest.
You can watch it all on this Sun-Sentinel website — just click on the third video on the right, the one innocuously titled, "Mayor Naugle's latest press conference turns heated." (The video could have been titled, "Homosexual activists shouts down speaker at press conference.")
Memo to Michael Rajner: next time just call your own press conference. 
If Rajner's self-important outburst wasn't bad enough, the Sun-Sentinel then proceeded to reward him for for it. The liberal newspaper gave its camera to Rajner for a one-on-one web-video "reaction" to the Naugle press conference. You can view Rajner's cliche-ridden rant against Naugle and his supporters on the same Sun-Sentinel website (the second video down on the right), "Reaction to Mayor Naugle's press conference."
Nothing like creating an incentive for intolerance. Now try to imagine the Sun-Sentinel or any liberal media being similarly solicitous of a conservative activist who shouted down a "gay" speaker. Right. It's time for the media to return to some semblance of objectivity, and to stop coddling spoiled "gay" activists who do not understand, or simply refuse to abide by, the rules of fair play and civil discourse.
This article was posted on Wednesday, August 22nd, 2007 at 10:05 am and is filed under
Bathhouses
,
CNN
,
E - Praying for the Lost
,
Health & Science
,
Homosexual Hate
,
Homosexual Hate Speech
,
Media Promotion
,
Mental Health
,
News
,
Physical Health
,
Pro-Homosexual Media
,
Public Indecency
,
Public Sex in Your Neighborhood?
,
South Florida
,
The Bible, Churches, & Homosexuality
. You can follow any updates to this article through the
RSS 2.0
feed.