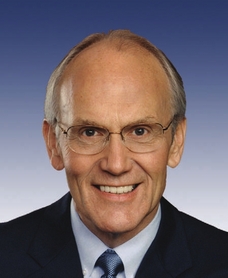 Sen. Larry Craig (R-Idaho)
Since this story broke, the Idaho affiliate of the American Family Association has called for Sen. Craig's resignation if the sordid allegations are true. Below are excerpts from a WorldNetDaily report:
GOP senator arrested for lewd conduct
Larry Craig pleaded guilty to incident at airport bathroom
——————————————————————————–
WorldNetDaily.com
Posted: August 27, 2007 
Sen. Larry Craig, R-Idaho, was arrested at Minneapolis-St. Paul International Airport by a plainclothes police officer investigating lewd conduct complaints in a men's public restroom, according to an arrest report obtained by Roll Call.
The Capitol Hill publication said Craig was arrested just after noon June 11 and pleaded guilty Aug. 8 in the Hennepin County District Court to misdemeanor disorderly conduct.
Later today, Craig responded to the Roll Call story with a statement, declaring, "At the time of this incident, I complained to the police that they were misconstruing my actions. I was not involved in any inappropriate conduct."
"I should have had the advice of counsel in resolving this matter," the senator said. "In hindsight, I should not have pled guilty. I was trying to handle this matter myself quickly and expeditiously."
Craig, who is married, paid more than $500 in fines and fees and was given one year of probation with the court that began Aug. 8, Roll Call reported. A 10-day jail sentence was stayed. …
The incident report, according to Roll Call, said the plainclothes officer, Sgt. Dave Karsnia, was investigating civilian complaints regarding sexual activity in the men's restroom of the Northstar Crossing in the Lindbergh Terminal. A number of arrests already had been made there.
Karsnia took a seat in a stall, and about 13 minutes later, a man later identified as Craig lingered in front of the stall for about two minutes.
The report states: "I could see Craig look through the crack in the door from his position. Craig would look down at his hands, 'fidget' with his fingers, and then look through the crack into my stall again. Craig would repeat this cycle for about two minutes."
Karsnia reported Craig then entered the stall next to him and placed his roller bag in front of the stall door.
"My experience," the officer stated, "has shown that individuals engaging in lewd conduct use their bags to block the view from the front of their stall. From my seated position, I could observe the shoes and ankles of Craig seated to the left of me."
Karsnia wrote:
"At 1216 hours, Craig tapped his right foot. I recognized this as a signal used by persons wishing to engage in lewd conduct. Craig tapped his toes several times and moves his foot closer to my foot. I moved my foot up and down slowly. While this was occurring, the male in the stall to my right was still present. I could hear several unknown persons in the restroom that appeared to use the restroom for its intended use. The presence of others did not seem to deter Craig as he moved his right foot so that it touched the side of my left foot which was within my stall area."
Click HERE to read the full WorldNetDaily report
Click HERE to read the statement by the Idaho affiliate of AFA calling for Craig's resignation