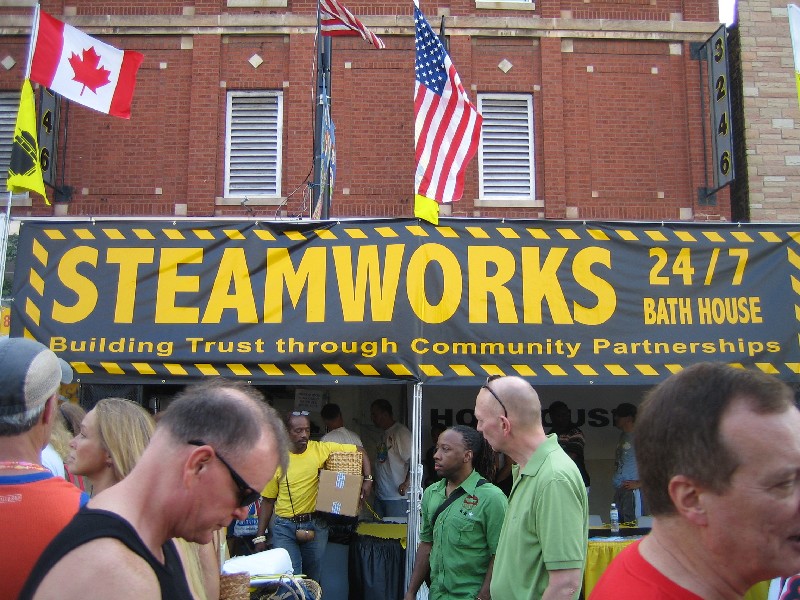 Steamworks, a 24/7 homosexual bathhouse — where men go for anonymous sex with other men — in the heart of Chicago's homosexual Boystown neighborhood, had a booth at the city's 2005 "Market Days" street fair. The fair was promoted by Illinois' tourism agency. Other booths at the event hawked "gay" porn and an anti-traditional-Catholic homosexual organization. More photos at: Illinois Family Institute's website.
  
By Peter LaBarbera 
We missed Chicago's "Market Days" earlier this month in the city's homosexual neighborhood of Boystown. So will have to rely on an account I wrote in 2005 for the Illinois Family Institute to illustrate the perils of using taxpayer dollars to promote homosexual tourism.
When states like Florida and cities like Chicago promote "gay" tourism, invariably they promote (mostly male) homosexual sexual promiscuity and anti-Christian homosexual activism — such as the counterfeit Catholic homosexual group 'Dignity Chicago,' which had a booth at Market Days, as shown in the IFI story. 
Where else but a homosexually-oriented street fair would you see a bathhouse sponsor a booth in which people (presumably including children) lined up to play "Skeeball"; a booth right on the street hawking hundreds of "gay" porn videos; a sadistic sex store table featuring to its own life-sized wax dummy — a fat, hooded "leatherman" standing in a cage; a heretical "gay Catholic" booth — and a "health" group passing out booklets informing teenaged "boyz" that "BEING QUEER is something SPECIAL. Something to CELEBRATE"?
All that and more was found at the 2005 Chicago "Market days." Yep, sounds like a great use of tax dollars to me.
The truth is, "gay" tourism — and homosexual events sponsored by major corporations — are unlike most other special interest promotions because they celebrate sexual immorality. Pushing the sexual (and now gender) envelope is part and parcel of the modern "GLBT" movement.
Mayor Naugle is right
Ft. Lauderdale Mayor Jim Naugle is urging his state's tourism officials to stop promoting homosexual bathhouses — 24/7 walk-in sex clubs where men go for anonymous sodomitic encounters with other men — as a way to reduce HIV infections (apparently, at his urging, Florida is now going to remove the bathhouses from their "gay"-oriented travel guides). He is right. But the larger problem with governments promoting "gay" tourism is that it puts the average citizen in the position of financing — and, thus, in a way, condoning — homosexual lifestyles. Governments act on behalf of citizens.
For Americans and politicians who worship at the shrine of the Almighty Dollar, sponsoring homosexuality-oriented events is not a  problem. "Gay" dollars are green, not lavender, and broke cities need cash, while local businesses benefit, they say. But I suspect that most taxpayers would not want to subsidize and celebrate pro-homosexuality events with their hard-earned dollars.
So let the private sector finance these dubious festivals — and the sex-filled "gay" tourism industry — on their own dime. Moral-minded and fiscally prudent taxpayers want out of the homosexuality promotion business.
This article was posted on Tuesday, August 28th, 2007 at 8:38 am and is filed under
Bathhouses
,
Chicago
,
GLBTQ Targeting Youth and Schools
,
Government Promotion
,
Health & Science
,
Homosexual Pornography & Film Festivals
,
Homosexual Pride Parades & Festivals
,
News
,
Not with MY Tax money!
,
Physical Health
,
Public Indecency
,
Public Sex in Your Neighborhood?
,
Religious Leaders
,
South Florida
. You can follow any updates to this article through the
RSS 2.0
feed.