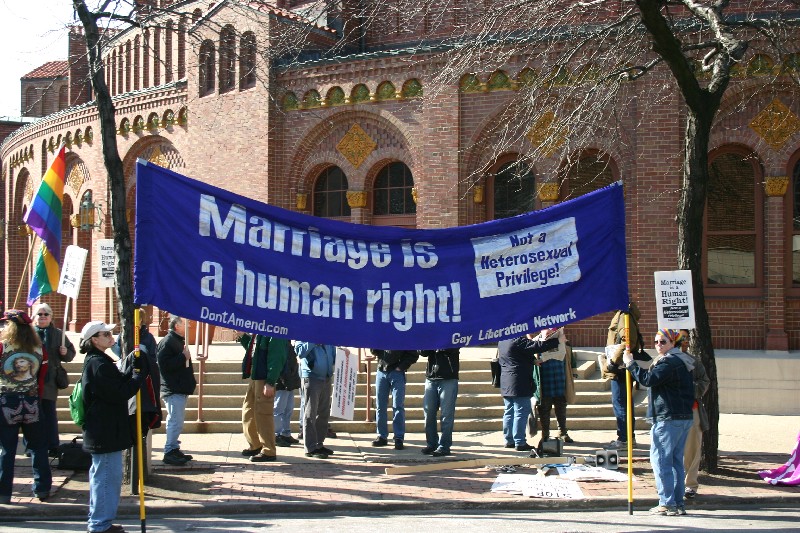 The same Gay Liberation Network that lied about Americans For Truth's banquet numbers and tried to pressure the Embassy Suites Hotel to drop our reservation once called Chicago's historic Moody Church (in background) a "House of Hate" — because Moody pastor Dr. Erwin Lutzer wrote a book critical of "same-sex marriage." The anti-Christian GLN claimed that "40-50" people attended AFTAH's banquet, when in truth over 110 showed up, packing the room. Photo courtesy Illinois Family Institute. 
By Peter LaBarbera 
The same homosexual activist group, Gay Liberation Network (GLN), that led a pressure campaign to oust Americans For Truth from the hotel where it held its successful banquet Friday night, is now spreading lies about the number of attendees — saying that "40-50" people came when in actuality over 110 people packed out the banquet room at the Embassy Suites Hotel in Lombard for the successful event.
GLN's lie has surfaced on lesbian blogger Pam Spaulding's site and presumably others as well. (We're anxiously awaiting "The Pam's" correction….) As you might imagine, the prodigious Gay Fib Machine is quite busy when it comes to smearing Americans For Truth, about which they are quite obsessed.
The GLN's Andy Thayer — who led a contingent of what looked like about 10 or fewer scruffy protesters at our event Friday, somehow determined that "There were only about 40-50 people in attendance" at our banquet. But Thayer and his small band of followers were kept off the Embassy Suites property; they were forced to hold their protest signs (one slammed the "Bigot Banquet") on the nearest big road (Butterfield Rd.), at least 50 yards from the hotel — so we're not sure how they got their curious crowd estimate.
A couple of homosexual men did come to the banquet room to harass us after the event had ended and many people had left, so maybe that explains it.
The Gay Liberation Network has some warped priorities, to be sure: while it crusaded against the "hateful" Americans For Truth — even trying to knock us from our hotel — it recently praised Miller Beer for sponsoring the deplorable, sadomasochistic "Folsom Street Fair," at which hundreds of men walked around totally nude and where orgies on the streets and various "consensual" beatings went undisturbed by San Francisco police.
Here's more falsehoods from GLN's Thayer, as relayed by Spaulding:
I doubt they were getting anywhere near $50/person from their paltry attendance, as one of our people went in to scope it out and was told by a person at the door that all that was needed to get in was a free reservation.  No way they covered their overhead, let alone raised any money.  
Truth be told, all of our guests paid their $50, and many much more, so thankfully we had a good night raising funds for our cause of answering "gay" activist lies in the culture.  
I did have an interesting conversation with one GLN protester. As I was in the parking lot, a woman popped out of her car, hugged me and proclaimed — smirk on her face — that she loved me. I hugged her back and told her that I loved her, too. But when I touched her, another woman (perhaps her partner?), still sitting in the car, called out: "Don't touch him, he's diseased."
Diseased? I wish that poor, deluded woman would have come in to hear Charlene Cothran's wonderful presentation about overcoming homosexuality rather than stand outside with the GLN's ridiculous signs: she's welcome to call me any time and I'll put her in touch with Charlene, who once, too, let anger and ideology keep her from the truth.
This article was posted on Wednesday, October 10th, 2007 at 6:11 am and is filed under
B - Ex-Homosexual Testimonies
,
Chicago
,
E - Praying for the Lost
,
Gay Liberation Network
,
Hateful Homosexual Attacks on Ex-Gays
,
Homosexual Hate
,
Homosexual Hate Speech
,
Homosexual Quotes
,
News
,
The Agenda: GLBTQ & Activist Groups
. You can follow any updates to this article through the
RSS 2.0
feed.