Compares Opposition to Homosexuality to Racism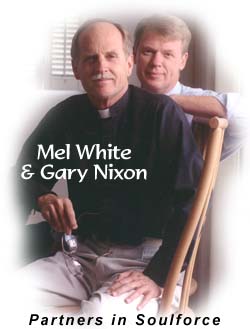 Mel White and his homosexual lover, Gary Nixon, as shown on his group Soulforce's website. Evangelical leftist Jim Wallis calls White a "gay Christian" in his new book. White smears Christians who adhere to Biblical teachings on homosexuality by accusing them of "spiritual violence" against homosexuals.
What is striking about the quotation below from Jim Wallis' book, "The Great Awakening: Reviving Faith & Politics in Post-Religious Right America" (which he promoted at his recent speech at Wheaton College) is that while he accuses the late Rev. Jerry Falwell of "inflammatory language," he ignores the same from homosexual activist Mel White, whom he labels a "gay Christian." White and his group Soulforce accuse churches and Christian leaders who defend Biblical teachings against homosexuality of "spiritual violence" against "gay, lesbian, bisexual and transgender people" — a calculated verbal smear that deliberately conflates defenders of God's revealed truth with spiritual bullying.
Why doesn't Wallis call upon Mel White to heal the "wounds" he has caused faithful Christians by castigating them for upholding Biblical truth?
Can you be a faithful Christian and a homosexual activist? We say no — any more than you could be a faithful Christian and an adultery activist, or a pornography activist, or an abortion-on-demand activist. Sin is sin. Mel White, who left his wife and family to enter into a sexual relationship with another man and pursue homosexual activism, is a rebel against God, albeit an eloquent one. Unfortunately, his ally Jim Wallis sees the greater danger coming from defenders of Biblical morality, rather than those like White who are working diligently to undermine and redefine it. — Peter LaBarbera
The following is found on page 303 of Wallis' book Great Awakening:
"It would have been nice to hear that Jerry Falwell, too, had moved to embrace a broader agenda than just abortion and homosexuality. Rev. Falwell, who was admittedly racist during the civil rights movement, in later years was honored by the Lynchburg NAACP for his turnabout on the issue of race, showing the famous founder of the Religious Right's capacity to grow and change. But recently on television I saw the pain on the face of gay Christian Mel White, who lamented that despite the efforts of himself and others, Falwell never moderated his strong and often inflammatory language (even if maintaining his religious convictions) against gay and lesbian people. They still feel the most wounded by the fundamentalist minister's statements; that healing had yet to be done."
This article was posted on Sunday, March 2nd, 2008 at 12:16 am and is filed under
A - What does the Bible say about homosexuality?
,
Activists
,
Authors & Journalists
,
Christian
,
D - GLBTQ Pressure Within Churches
,
E - Praying for the Lost
,
Homosexual Hate
,
Jim Wallis
,
Mel White
,
News
,
The Bible, Churches, & Homosexuality
. You can follow any updates to this article through the
RSS 2.0
feed.