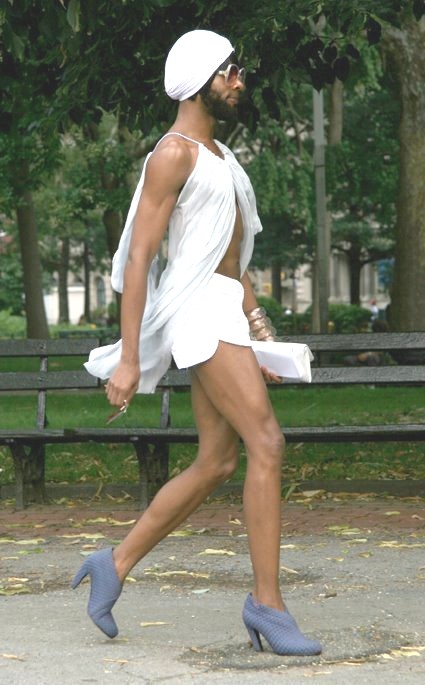 Hate speech or humor? This one has been making the e-mail rounds — quick, call the Thought Police! Something tells me that most of our humorless homosexual critics won't be laughing (after all, jokes are allowed only when ridiculing "anti-gay fundies"), but everyone else seems to think it's hilarious.
Is there a bomb in those high heels? — Peter LaBarbera
Disclaimer: This graphic is only a joke. Any resemblance to an actual woman is purely coincidental and highly unlikely. Furthermore, there is no evidence to suggest that there is an incendiary device in this "she-male's" pumps. We at Americans For Truth about Homosexuality (AFTAH) have no reason to believe this man pretending to be a woman is actually a terrorist, nor are we implying that Arab-looking transvestites are terrorists or that they represent any serious threat to Americans other than to our sensibilities. Memo to PFLAG: if you are planning to organize a protest or request a meeting with me or AFTAH, do not waste your time; I will still think this is funny. Please direct all legal inquiries to Sodom, Gomorrah & Brimstone Attorneys at Law; www.sodomgomorrahbrimestoneLLC.com; e-mail correspondence: [email protected]; (202-555-JOKE).