Brothers and Sisters is the first network series to showcase a same-sex union between regular characters. The show continues the network's taboo-busting – or standards-eroding – trend in entertainment and news programming.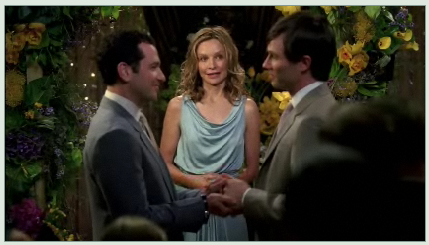 By Kristen Fyfe
Culture and Media Institute
May 9, 2008
Kevin and Scotty will exchange vows on the season finale of ABC's Brothers and Sisters Sunday night. And the actor who plays "Kevin," Matthew Rhys, told USA Today, "It's all very progressive, evolved and about time."
In a story about the atypical TV wedding, USA Today's reporter William Kleck mentioned that the show is "liberal leaning" but "does attempt to recognize those who oppose gay "marriage" by introducing Scotty's parents, who skip the ceremony. That volatile relationship is expected to be explored in Season 3."
Kleck also mentioned that another character's children will witness the gay commitment ceremony and the actress who plays the mom hopes viewers won't "have a problem with that."
Click HERE to read the rest of the CMI story
This article was posted on Tuesday, May 13th, 2008 at 6:56 pm and is filed under
"Civil Unions" & "Gay Marriage"
,
"Civil Unions" & "Gay Marriage"
,
ABC
,
Bible
,
Christian
,
D - GLBTQ Pressure Within Churches
,
Hollywood Promotion
,
Media Promotion
,
News
. You can follow any updates to this article through the
RSS 2.0
feed.