Conservative MPs protest attempts to silence critics of homosexual acts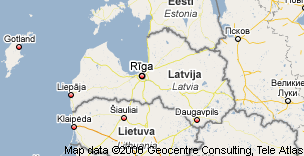 Folks, we highly recommend LifesiteNews.com, which is one of the world's best pro-family news sites. You can sign up for their daily e-mail newsletter HERE. The article below (read it in full on LifesiteNews HERE) reveals how the European Union is pressuring independent nations into accepting its radical homosexualist agenda:
By Michael Baggot
RIGA, Latvia, June 3, 2008 (LifeSiteNews.com) – Following efforts from a European Parliament group to silence public disapproval of homosexual behavior, six conservative MPs from the Latvia First Party boldly challenged the "gross interference of a homosexual group of European Parliament members into Latvia's internal affairs" in a recently released statement.
"Church representatives and other supporters of traditional family values stand against the forcing of the mistaken idea that homosexuality is normal upon society, against the legal equalisation of homosexual rights and the natural family model, and against the challenging demonstration of homosexuals and immoral and hooligan behaviours," stated the six MPs.
The MPs' remarks came in response to the European Parliament's Intergroup on Gay and Lesbian Rights condemnation of an open letter from Archbishop of Riga Cardinal Janis Pujats and other Catholic priests opposing the legality of the May 31st pro-homosexuality Equality March.
The European group chided the Catholic clergy for "inflicting their prejudices on others."
"The signatories to the letter show a blatant disregard for human rights as expressed in the European Convention of Human Rights," said Michael Cashman, President of the Intergroup.
"They also show an appalling and worrying ignorance of EU Treaties and legislation. They should not interfere in a democratic state which abides by the rule of law. It is up to governments to govern and up to the clergymen to preach unto those who believe as they do."
The Latvia First Party criticized the Intergroup's attempt to silence opposition to homosexuality.
"We, members of the 9th Saeima of the Republic of Latvia, denounce the attacks by the homosexual group of European Parliament members who are trying to limit our freedom of speech and our religious convictions," responded the six MPs.
Cardinal Pujats's late May letter against the Equality March is not the first time the prelate has spoken against the threat of pro-homosexuality activists.
Last May, the Latvian newspaper Ritienda published the open letter by Cardinal Pujats, "Defending Family Values," where the head of Latvia's Catholic Church described homosexual behavior as "total corruption in the sexual arena" and an "unnatural form of prostitution." … [Click HERE to read the rest of the article on LifeSiteNews]
See related LifeSiteNews.com coverage:
Latvian Cardinal Warns "Gay" Pride Parade a Foretaste of "True Military" Attack on Nation's Values
http://www.lifesitenews.com/ldn/2007/may/07051105.html

Homosexual Activists in EU Parliament Vow to Oppose Latvian Pro-Family Measure
http://www.lifesitenews.com/ldn/2005/dec/05120702.html
Latvian Parliament Overwhelmingly Supports Constitutional Protection for Traditional Marriage
http://www.lifesitenews.com/ldn/2005/dec/05120204.html

Latvian Cardinal Warns Gay Militancy More Dangerous than Soviet Times
http://www.lifesitenews.com/ldn/2005/aug/05081609.html
Click HERE to read the rest of the article on LifeSiteNews
This article was posted on Wednesday, June 4th, 2008 at 9:44 am and is filed under
Christian Persecution
,
European Union
,
Freedom Under Fire
,
Homosexual Pride Parades & Festivals
,
International
,
Latvia
,
News
,
Sexual Revolution
,
Stealing Civil Rights
. You can follow any updates to this article through the
RSS 2.0
feed.