Yes, there was plenty of 'diversity' at IML …
See letter to AFTAH below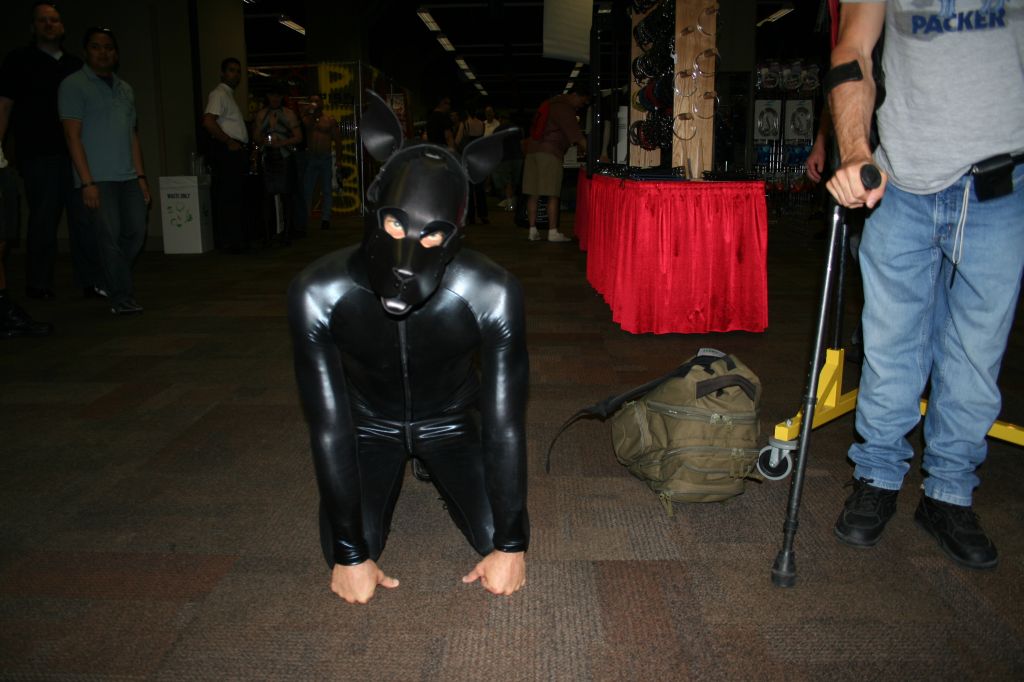 'CONSENSUAL' DEGRADATION: [Click photo to enlarge] Leatherman "doggie slave" poses on all fours for a photo at the sadistic-sex-glorifying International Mr. Leather (IML) convention, hosted by the Hyatt Regency Chicago over the Memorial Day weekend. The "slave's" older male "owner" stands nearby with a cane. TAKE ACTION: Call the Hyatt Regency's General Manager, Patrick Donnelly, at 312-565-1234 to tell him that it is wrong to profit off of pornography and perversion and that you will never stay at the Hyatt Regency Chicago — where vile, homosexual orgies involving IML participants occurred in guest rooms. Tell Mr. Donnelly that you will tell others not stay there as well. To contact Hyatt Regency's national headquarters' consumer affairs department: click HERE or e-mail consumeraffairs@hyatt.com; or call: 800-323-7249. PHOTO: AFTAH

Beverly Bubb of Michigan writes (emphasis added):
Thank you for your recent communication about the IML \\\"celebration\\\" held at the Hyatt Regency in Chicago. Per your suggestion, I listened to the interview on CWA about this event and then called the General Manager; Patrick Donnelly. He was shameless in his defense of hosting this event in the name of \\\"diversity\\\"! Since I grew up in the Chicago suburbs and still have many friends and family there; I informed Mr. Donnelly that I would make sure they all knew about what the Hyatt was promoting at their hotel and tell them never to stay in their facility. Thanks so much for bringing this to my attention and to the attention of God-fearing people everywhere.

Beverly Bubb, Canton, Michigan
This article was posted on Wednesday, June 4th, 2008 at 6:20 pm and is filed under
BDSM
,
Chicago
,
Corporate Promotion
,
Gay Culture
,
Health & Science
,
Homosexual Meccas
,
Homosexual Pornography & Film Festivals
,
Hyatt Regency
,
Leather
,
Mental Health
,
News
,
Physical Health
,
Public Indecency
,
Sexual Revolution
,
Sodomy
,
The Bible, Churches, & Homosexuality
. You can follow any updates to this article through the
RSS 2.0
feed.