(Some) traditional nations targeted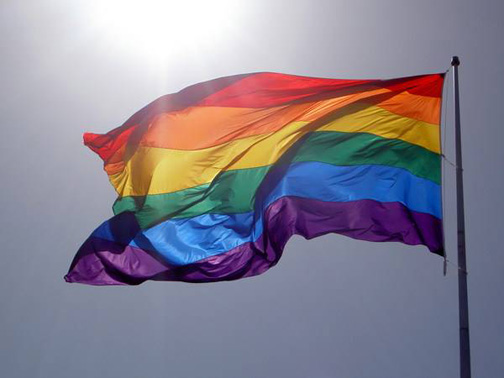 Will America go the way of the Brits? Let's hope not. Further confirming its status as a nation in decline, the British government is now brazenly pushing its decadent, secular version of sodomy- and abortion-based "human rights" on countries that possess a more traditional, religious view of sexual morality (e.g., Latvia and Poland below). Something tells us, however, that there will be no "rainbow flags" flying from U.K. Embassies in Muslim-dominated countries. Much easier to target small, Christian-oriented nations that are vulnerable to politically-correct European Union (EU) bullying. — Peter LaBarbera
P.S. We can't let the homosexual activists steal the rainbow just like they stole the word "gay" and are trying to steal "equality" by applying it to counterfeit same-sex "marriage."
_________________________
The British homosexual website PinkNews reports:
Flying the Rainbow flag is a decision for individual British embassies
By Tony Grew, PinkNews, June 10, 2008
The sight of the international symbol of the gay community flying from British embassy buildings in Riga and Warsaw in past weeks has been widely praised as a symbol of the UK's commitment to gay rights.
The Rainbow flag has been displayed twice, both times in EU nations that have banned gay events.
A spokesperson for the Foreign and Commonwealth office told PinkNews.co.uk that the symbolic gesture is not part of an "overall" policy to promote LGBT equality. …
The decision to fly the flag in Riga and Warsaw to show support for their respective Pride events was warmly welcomed by gay rights activists in Poland and Latvia.
In May the Foreign and Commonwealth Office confirmed its commitment to engage with foreign governments about the rights of gay, lesbian, bisexual and trans people.
It issued an 'LGBT Toolkit' to its 261 embassies, high commissions and other diplomatic posts.
The kit contains information on the official British policy on gay rights and instructions in how to "provide added value to equality and non-discrimination work."
It covers a wide range of issues, from decriminalisation, sexual health, reproductive rights [abortion] and health education to bilateral work with other countries. …
Click HERE to read the entire "Pink News" story, "Flying the Rainbow flag is a decision for individual British embassies"
This article was posted on Tuesday, June 10th, 2008 at 1:44 pm and is filed under
Christian Persecution
,
European Union
,
Freedom Under Fire
,
Great Britain
,
Homosexual Pride Parades & Festivals
,
International
,
Latvia
,
News
,
Semantics/stealing words
,
The Bible, Churches, & Homosexuality
. You can follow any updates to this article through the
RSS 2.0
feed.