Ninth Circuit chief judge into freakish porn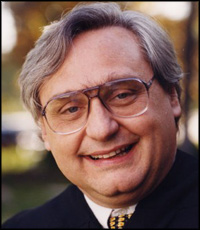 The Los Angeles Times reports today:
One of the highest-ranking federal judges in the United States, who is currently presiding over an obscenity trial in Los Angeles, has maintained his own publicly accessible website featuring sexually explicit photos and videos.
Alex Kozinski, chief judge of the U.S. 9th Circuit Court of Appeals, acknowledged in an interview with The Times that he had posted the materials, which included a photo of naked women on all fours painted to look like cows and a video of a half-dressed man cavorting with a sexually aroused farm animal. Some of the material was inappropriate, he conceded, although he defended other sexually explicit content as "funny."
Kozinski, 57, said that he thought the site was for his private storage and that he was not aware the images could be seen by the public, although he also said he had shared some material on the site with friends. After the interview Tuesday evening, he blocked public access to the site….
Click here for the full LA Times story: "9th Circuit's chief judge posted sexually explicit matter on his website"