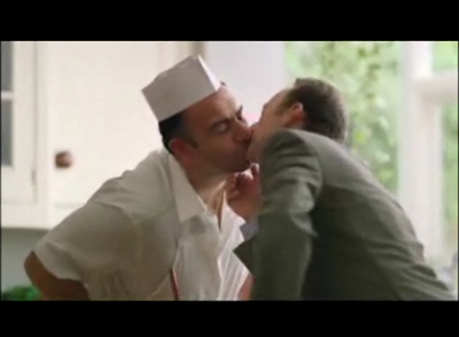 The Heinz website reports regarding the company's withdrawal of this homosexual-themed ad (picture at left; Contact Heinz HERE):

Heinz Unit in the UK Withdraws TV Commercial for Deli Mayonnaise

LONDON, England–June 23–BUSINESS WIRE–Heinz UK today confirmed that it withdrew a UK TV commercial for Deli Mayo last week following consumer feedback. The advertisement was no longer on air in the UK as of Friday, June 20.

"It is our policy to listen to consumers. We recognize that some consumers raised concerns over the content of the ad and this prompted our decision to withdraw it," said Nigel Dickie, Director of Corporate Affairs for Heinz UK.

"The advertisement, part of a short-run campaign, was intended to be humorous and we apologize to anyone who felt offended," said Dickie.

The Deli Mayo TV advertisement in the UK was created as a humorous take on a slice of life and featured a genuine New York deli chef taking the place of a mum preparing great tasting sandwiches in the kitchen using UK Deli Mayo.
The Heinz British ad featured a domesticated male homosexual couple with kids, who call the one man (making their sandwiches) "mum" as they run off to school. The ad ends with the man kissing his homosexual partner, who is also rushing off, to work. You can play the video commercial at the British newspaper The Guardian's story on it here: http://www.guardian.co.uk/media/2008/jun/16/advertising3
That the ad ran at all says as much about the new, evolving, anti-Christian Britain and its plummeting morality as it does about Heinz. The ketchup corporation would never run this ad in the USA, although surely we're not far behind the Brits given current trends.– Peter LaBarbera
You can contact Heinz HERE. Below is Heinz's online description of itself:
H. J. Heinz Company, offering "Good Food Every Day"TM is one of the world's leading marketers and producers of healthy and convenient foods specializing in ketchup, sauces, meals, soups, snacks and infant/nutrition. Heinz provides superior quality, taste and nutrition for all eating occasions whether in the home, restaurants, the office or "on-the-go." Heinz is a global family of leading branded products, including Heinz® Ketchup, sauces, soups, beans, pasta and infant foods (representing over one third of Heinz's total sales), Ore-Ida® potato products, Weight Watchers® Smart Ones® entrees, Boston Market® meals, T.G.I. Friday's® frozen snacks, and Plasmon® infant nutrition. Heinz is famous for its iconic brands on five continents, showcased by Heinz® Ketchup, The World's Favorite Ketchup®. Information on Heinz is available at www.heinz.com.