WARNING: VULGAR LANGUAGE ON SIGNS USED BY PROUD BOSTON "DYKES" — INAPPROPRIATE FOR CHILDREN INCLUDING THOSE WHO WERE BROUGHT TO THIS OBSCENE 'DYKE MARCH'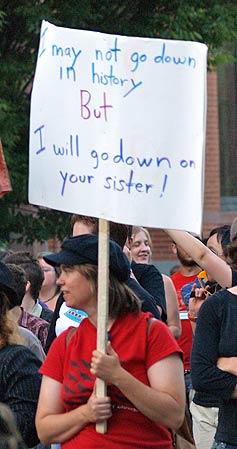 Vulgarity on display at Boston "Dyke March" June 13. All photos shown here were shot by MassResistance. Click HERE to see their complete photo-story and video on the obscene "Dyke March."
Brian Camenker and Amy Contrada of MassResistance report on the vulgar Boston "Dyke March" June 13. (Lesbian activists evidently can call themselves "dykes"; for the rest of us that's potential "hate speech.") Somebody report Camenker and Contrada to

the Gay Thought Police for using the phrase "normal people." Actually, they make a valid point: this in-our-face "dyke" movement — a combination of radical feminism and homosexual militancy — has zero to do with "civil rights" and everything to do with attacking normality by promoting perversion. Worst of all, its front-line activists seem to glory in corrupting youth and especially young girls and women with their deviant, God-defying messages. How sad to see grown women involved in this immature spectacle. Click HERE to see the entire MassResistance photo-story and video.
We're showing these MassResistance photos unedited so as to accurately convey the messages presented in front of children and the Boston public. — Peter LaBarbera
MassResistance writes:
"Gay Pride Week" Boston Dyke March: Parade of obscenity and weirdness through downtown streets.
It was "Gay Pride Week" in Massachusetts earlier [last month]. If you were smart, you left the state. In our last email we reported on the gruesome Transgender Pride Parade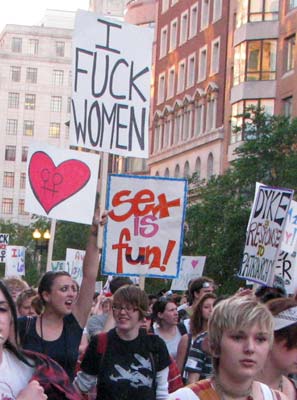 in Northampton, where "transgender" women who had cut off their breasts to look like men marched shirtless (we're not kidding).
That was just the beginning. On Friday, May 13, the profane "Boston Dyke March" took over the Boston Common and streets of the downtown area.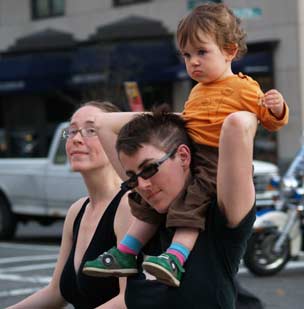 The first thing that comes to mind is that normal people wouldn't do this. This is the homosexual movement in its raw form – people who are clearly stalled in their emotional development. And these are the same people pushing the agenda in schools, businesses, and government.
It was a loud display of obscene chants, people carrying profane and sexual signs, public in-your-face homosexual embracing, and a lot of scary weirdness. Anyone in the downtown area, including tourists with their children, was confronted with this assault.
NOTE: Not surprisingly, none of this was reported in any of the Boston area newspapers, TV networks, or radio stations – even though it was a very public event that blocked city streets for hours. Why?
MassResistance comments regarding the "lesbian mom" photo at right: "Who would bring a child to something like this? Lesbian parenting on display. This child will grow up thinking all this is normal."
… And it's funded by major companies and politicians. Here are some of the companies which proudly supported [Boston] Gay Pride Week: Verizon, Bank of America, Dana Farber Cancer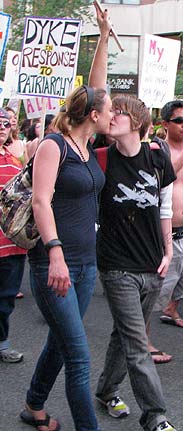 Institute, Borders Bookstore, Macy's, Hyatt-Regency Boston, the City of Boston, the Commonwealth of Massachusetts, Poland Spring, Pepsi, and Starbucks. Politicians include the Governor, members of the Legislature, Mayor of Boston, most of the Boston City Council, and many, many more. It's pretty clear: they don't care about you or your children.
This article was posted on Wednesday, July 2nd, 2008 at 1:20 pm and is filed under
02 - Lesbian
,
Adoption & Foster Parenting
,
Gender 'Fluidity' (Confusion)
,
GLBTQ Targeting Youth and Schools
,
Homosexual Parenting
,
Homosexual Pornography & Film Festivals
,
Homosexual Pride Parades & Festivals
,
Lesbianism
,
Media's Liberal Bias (General)
,
Mental Health
,
News
,
Pornography
,
Public Indecency
,
Sexual Revolution
,
Stealing Civil Rights
. You can follow any updates to this article through the
RSS 2.0
feed.