Prepping Kids for Sex Change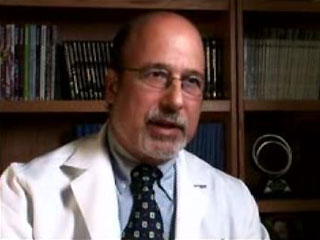 Dr. Norman Spack: profiting off of gender confusion, endangering kids' health.
"Spack injects children with hormone-blocking drugs to prevent them from developing secondary sexual characteristics, like breasts or facial hair. The idea is to give them a few more years to make up their minds if they want to be male—or female."
We highly commend Breakpoint's website, which is loaded with useful information and commentaries like this defending a Christian, pro-truth worldview. Note the excellent additional resources offered following this article.
We also recommend a terrific expose on the "transgender" agenda by Amy Contrada of MassResistance: see her 125-page report, "The Coming Nightmare of a Transgender Hate Crimes Bill." Don't read it unless you are serious about understanding this bizarre, aggressive movement and the threat it poses to children and society. Emphasis added in the Church Colson's Breakpoint commentary below:
____________________________
It's a Sick, Sick World
By Chuck Colson
Breakpoint Commentary, July 8, 2008
Prepping Kids for Sex Change
He has been called "demonic," "barbaric," and has been compared to Nazi doctors. And when you read about his work, it is easy to see why Americans are so outraged. Dr. Norman Spack is a pediatric endocrinologist at Boston Children's Hospital. Not long ago, he opened a clinic for what he terms "transgendered" children. Incredibly, he is giving kids as young as seven drugs that delay the onset of puberty—the first step in sex-change surgery when they are older.
Spack injects children with hormone-blocking drugs to prevent them from developing secondary sexual characteristics, like breasts or facial hair. The idea is to give them a few more years to make up their minds if they want to be male—or female.
When these kids hit their teen years, they are given the option of taking cross-hormones for a few years—which will allow them to develop the characteristics of the opposite sex. Tragically, the treatment will condemn these teenagers to lifelong infertility.
Spack appears to think that that is a reasonable trade-off for teens who feel they are trapped in the body of the opposite sex: After all, the cross-hormone treatments will make it easier for them to "pass" as the opposite sex. For instance, men will not grow as tall as they normally would, nor will they develop beards or Adam's apples.
In a fawning article about Spack, the Boston Globe referred to his treatment of gender-confused children as "modern medical care." Medical care, my eye! This is medical mayhem. It is unconscionable.
Dr. Paul McHugh, a distinguished professor of psychiatry at Johns Hopkins University, agrees: He says that treating these children with hormones "does considerable harm, and it compounds their confusion. Trying to delay puberty or change someone's gender," he added, "is a rejection of the lawfulness of nature."
Dr. McHugh knows what he is talking about. He and psychiatrist Jon Myer studied men who received sex-change operations at Johns Hopkins. His conclusion? "That Hopkins was fundamentally cooperating with a mental illness." Better, McHugh thought, to concentrate on fixing their minds instead of taking the more drastic step of changing their sex.
Thanks to the research of Myer and others, this practice was stopped at Johns Hopkins. And it became possible to begin to make sense of the mental disorders that were driving the request for the surgeries.
So why are doctors like Spack altering young bodies instead of treating confused minds?
The answer is that many doctors have embraced the modern teaching that sexual identity, rather than being biologically determined, is a preference or a choice. According to this, people should be allowed to choose whatever sex they want to be.
But both science and the Bible teach otherwise: God created us male and female in His image. Shots and surgeries and politically correct teachings cannot alter this fundamental truth.
Tragically, some parents are now buying into this false teaching—and allowing their children to undergo destructive treatments.
You and I need to be spreading the word that legitimate treatment is available for people suffering from gender confusion—and it is a treatment that does not sacrifice the well-being of children to the political agendas of adults.
____________________________
Today's BreakPoint Offer
Learn more about Breakpoint's Wide Angle worldview video series with Chuck Colson and Rick Warren—perfect for small-group Bible studies!
____________________________
For Further Reading and Information
Pagan Kennedy, "Q&A with Norman Spack," Boston Globe, 30 March 2008.
"Critics Slam Boston Doctor Who Offers Sex Change Treatment to Kids," FOX News, 19 May 2008.
Ashley Smith, "Mom Accepts Transgender Manchester Tween," Nashua Telegraph, 22 June 2008.
Paul McHugh, "Surgical Sex," First Things, November 2004 (reprinted by GodSpy).
Stephen Reed, "Sex Change Operations . . . for Kids," The Point, 19 May 2008.
Gina Dalfonzo, "Who Will Watch the Watchers?" The Point, 27 May 2008.
BreakPoint Commentary No. 050615, "The Wisdom to Know the Difference: Is Sexual Identity Malleable?"
BreakPoint Commentary No. 040209, "Gender Blender: Adolescent Girls and 'Heteroflexiblity'."
BreakPoint Commentary No. 061121, "Pick Your Nose, Not Your Gender: Postmodern Mischief."
BreakPoint Commentary No. 070423, "Coming to a School near You: Normalizing Homosexuality."
This article was posted on Wednesday, July 9th, 2008 at 11:13 am and is filed under
04 - Gender Confusion (Transgender)
,
Born that Way?
,
Gender 'Fluidity' (Confusion)
,
GLBTQ Targeting Youth and Schools
,
Health & Science
,
Massachusetts Transgender Political Coalition
,
Media's Liberal Bias (General)
,
Mental Health
,
News
,
Physical Health
,
Promoting Gender Confusion
. You can follow any updates to this article through the
RSS 2.0
feed.