Nearly 200,000 have signed AFA's "BoycottMcDonalds.com" petition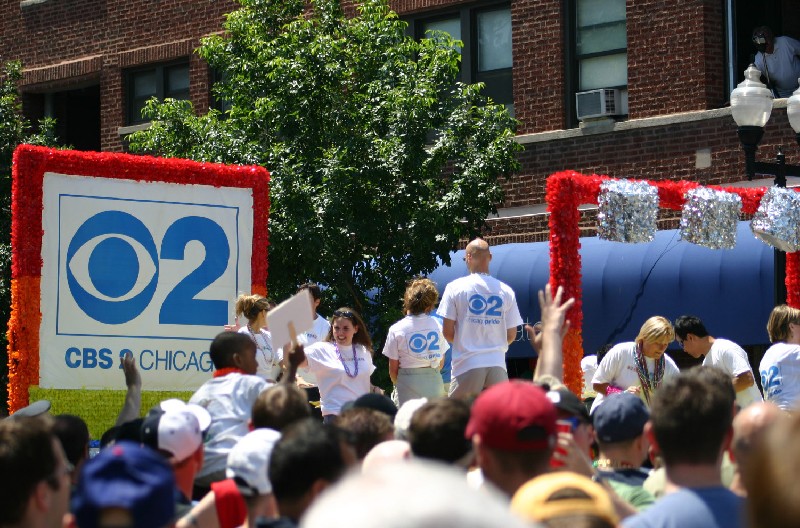 CLICK ON PHOTO TO ENLARGE. Chicago's CBS TV affiliate fields a float every year at the city's bawdy homosexual "pride" parade, but CBS and other major Chicago secular media were no-shows at AFTAH's pro-family coalition press conference yesterday highlighting a huge and growing pro-family boycott of McDonald' s (based outside Chicago). McDonald's was given a high 85% rating by a homosexual lobby group for its pro-homosexuality and pro-transsexuality policies. Photo courtesy Illinois Family Institute.
Dave Diersen, an Illinois Republican activist, has provided a summary of the coverage of our press conference in front of McDonald's' world headquarters in Oak Brook, Illinois. Predictably, I suppose, we were completely blacked out by Chicago's and Illinois' major media — which had no excuse since they were inundated with press releases about the event by four pro-family organizations taking part: Americans For Truth, American Family Association, Illinois Family Institute and Liberty Counsel. It appears that the Fox News item below came from AP.
So once again the major media are doing the work of the homosexual lobby. Many in the media have decided that the "gay" issue is settled, and the homosexual activists have won. (Remember when Big Media thought the abortion issue was pretty much over?) Yesterday's non-coverage was appalling journalism, even by corrupt Chicago standards. Clearly, the boycott story is compelling — even from a pure business perspective: already, nearly 200,000 people have signed AFA's boycott petition (www.boycottmcdonalds.com).
The people involved in this boycott of McDonald's are good family people — not vegans, America-hating leftists, or some other fringe group. And the idea really seems to be catching on. As I said yesterday, millions and millions of Americans have had it with the elite media's and pop culture's promotion of homosexuality, but they don't know what to do about it. Boycotting McDonald's, an easy target but admittedly not the worst corporate offender — PepsiCo Foundation recently gave $500,000 to the homosexual group Human Rights Campaign Foundation, compared to McDonald's $20,000 to the National Gay and Lesbian Chamber of Commerce — is something simple to do to stand up for marriage and the natural family.
More coming on this story. — Peter LaBarbera
P.S. Most major Chicago media either field floats or participate in the annual Chicago "Gay Pride" parade, and the local ABC affiliate televises it (see photo above). Now there's some "news" with wide appeal in Chicagoland!
______________________________
Dave Diersen writes:
[Note for those outside Illinois: the "combine" derogatorily refers to Chicagoland Democrat and Republican politicians and interests that work together (corruptly) to advance their own political and monetary interests irrespective of party and principle.]
News clips and upcoming event information:
GOPUSA ILLINOIS
VERY SAD BUT NOT SURPRISING: The Combine gets its news media members to keep the McDonald's boycott off their websites – Dave Diersen
www.gopillinois.com
The American Family Association and other groups have called for a boycott of McDonald's because it promotes homosexual activity. It is very sad, but not surprising, that the Combine got its news media members to keep the boycott off their websites. The boycott was announced at an outstanding 10:00 AM press conference yesterday at the McDonald's restaurant across from McDonald's world headquarters in Oak Brook. Because the Illinois Democrat Party Platform promotes homosexual activity and the Illinois Republican Party Platform discourages homosexual activity, the boycott is a political story. I was hoping to see Mary Ann Ahern, David Beery, Mike Flannery, Rick Preason, Andy Shaw, and other political reporters at the press conference, but I did not. Speakers at the outstanding press conference included Matt Barber, Peter LaBarbera, Sandy Rios, and David E. Smith. Sadly, McDonald's is a member of the Combine. Hopefully, Illinois Republican Party (IRP) Chairman Andy McKenna Jr. will get his father, Andy McKenna Sr., the President of McDonald's, to get McDonald's to stop promoting homosexual activity. Also, hopefully, he will get his father to cancel McDonald's membership in the Combine. IRP Chairman Andy McKenna Jr. was scheduled to meet with DuPage County Republican Central Committee (DCRCC) leaders in Wheaton this evening. Hopefully, all this will be discussed during that meeting and summarized in a DCRCC press release.
FOX NEWS CHANNEL
— Christian Group Boycotts McDonald's for Supporting Gay Chamber of Commerce
http://www.foxnews.com/story/0,2933,383561,00.html
(THE ARTICLE: OAK BROOK, Ill. – A Christian group that opposes same-sex marriage launched a boycott of McDonald's because of the fast-food chain's support for the National Gay and Lesbian Chamber of Commerce. American Family Association president Tim Wildmon says almost 200,000 people have signed an online pledge to boycott McDonald's for promoting homosexuality instead of remaining neutral. McDonald's spokesman Bill Whitman says the company has made a financial contribution to the National Gay and Lesbian Chamber of Commerce, and a McDonald's executive serves on the chamber's board. He insists that doesn't mean that McDonald's supports "a particular lifestyle or same-sex marriage.")
LIFE SITE NEWS
— Family Advocates Take McDonald's Boycott to Home of the Golden Arches After "Hate" Smear – Peter Smith
http://www.lifesitenews.com/ldn/2008/jul/08071602.html
(FROM THE ARTICLE: OAK BROOK, Illinois, July 16, 2008 (LifeSiteNews.com) – The boycott against McDonald's over its public support of a gay lobby group pushing same-sex "marriage" has now escalated, as the pro-family groups the global hamburger giant accused recently of "hate" have brought the fight right to the home of the famed Golden Arches. The American Family Association (AFA), Americans for Truth, the Illinois Family Institute, and the legal advocacy group Liberty Counsel held a joint press conference Wednesday in front of the McDonald's restaurant across from McDonald's corporate headquarters in Oak Brook, Illinois to protest the corporation's statements that people opposed to its support of the National Gay and Lesbian Chamber of Commerce (NGLCC), were motivated by "hate." . . . The AFA boycott petition may be found here: http://www.boycottmcdonalds.com/ Contact info for McDonald's: Andrew J. McKenna, President, McDonald's Corporation USA, McDonald's Plaza, Oak Brook, IL 60523 Phone: 1-800-244-6227 or: 630-623-3000 Fax: 630-623-5004)
DAKOTA VOICE
— Protest at McDonald's HQ Over Promotion of Homosexual Agenda – Alexander Sheffrin
http://www.dakotavoice.com/2008/07/protest-at-mcdonalds-hq-over-promotion.html
(FROM THE ARTICLE: McDonald's, however, has been unapologetic about its pro-gay stance, asserting that organizers of the boycott are motivated by a hateful agenda against homosexuals. "Hatred has no place in our culture," McDonald's USA spokesman Bill Whitman told The Washington Post. "That includes McDonald's, and we stand by and support our people to live and work in a society free of discrimination and harassment," he explained. But the AFA is arguing that its boycott is about the record of McDonald's and its duty to be a responsible and neutral corporation. "This boycott is not about hiring homosexuals, or homosexuals eating at McDonald's, or how homosexual employees are treated," the AFA said. "It is about McDonald's, as a corporation, choosing to put the full weight of their corporation behind promoting the homosexual agenda, including homosexual marriage," the group explained. In an e-mail to boycott supporters, Peter LaBarbera of Americans for Truth, which organized a press conference outside McDonald's headquarters Wednesday, said that the accusations of "hate" and prejudice from McDonald's were a reflection of the food chain's own deeply embedded anti-Christian views. "When we've reached the point where belief in the Bible and traditional morality is routinely equated with hatred, America has become hostile territory for people of faith," he said. "Sadly, 'diversity' is becoming a corporate code-word for anti-Christian bigotry – forcing people of faith to imbibe politically correct ideologies that violate their beliefs," he added. According to a press release, boycott organizers "are encouraging families to do two things: sign, print and distribute a Boycott McDonald's petition at www.boycottmcdonalds.com; and call the local McDonald's to politely tell the manager they are boycotting the chain until it stops promoting the gay agenda.")
WICHITA EAGLE
— Not 'lovin' it': McDonald's supports gay group – Brent Castillo
http://www.kansas.com/opinion/castillo/story/465759.html
(FROM THE ARTICLE: Bigot. Homophobe. Hater. These are the terms that many gay activists and their supporters use to label you if you oppose gay marriage, or believe homosexuality is immoral. What is surprising is to see the spokesman for McDonald's USA, Bill Whitman, incorporate some of the same rhetoric when justifying the company's support and involvement in the National Gay and Lesbian Chamber of Commerce. The chamber lobbies Congress on a wide range of issues, including the promotion of same-sex marriage. "Hatred has no place in our culture," Whitman said in an interview with the Washington Post. "That includes McDonald's, and we stand by and support our people to live and work in a society free of discrimination and harassment." The "hatred" he is referring to is the American Family Association's call for a boycott of the restaurant chain.)
PAM'S HOUSEHOLD BLEND
— DIERSEN HEADLINE: VERY SAD: "tfeminist" a) denigrates Christians as being "religious wingnuts" and "kooks" and b) defends McDonald's promotion of homosexual activity
http://www.pamshouseblend.com/showComment.do?commentId=69952
(THE POSTING: My view on McDonalds – McDonalds is a corporation based in eastern DuPage county. As much as DuPage gets a wrap for being conservative, lets be clear, the wing nut section is in Wheaton, eastern DuPage is some pockets of liberalism and corporate conservatism. The eastern part of DuPage draws employees from Cook and Chicago. It is really just a gigantic corporate office park, especially Oak Brook. McDonalds, secondly exists in Illinois and is a stones throw from "gay friendly" Chicago (I still love the fact that Mayor Daily turned down the Republican Convention saying he was to busy with the gay games). They have to play to Dem Politics to keep State Tax incentives. Illinois is not going to turn red any time soon, the state has become indigo, as younger blue collar folks, and their white collar brethren are starting to share a common political vision for the state. Dem Politics in Illinois, has become pro-queer as a result. Some of it has to do with the increasing progressive nature of the state, and some is pure economics. They want the state to be a "creative class" one that rivals California. They have done a pretty good job of it so far. The state is without question getting an increasing amount of corporate relocations, sees major Hollywood movies regularly (both Batman and Wanted were filmed there). McDonalds, wants to be part of this effort, they have strong ties with the interests of the state and the City of Chicago. McDonalds, a long time sponsor of the Olympics, also wants to see the games in their back yard. So to say they have increasing ties to the democratic party in the state would be an understatement. They may as well be a million miles from these religious wingnuts, they exist in another political reality and honestly are not influenced by these kooks. Their reality that is more about tax incentives, the Olympic games in Chicago and recruiting, than right wing boycotts, really don't have much of an impact. Either way, I am encouraged that McDonalds is ignoring the boycott. When it gets down to it the company has always been one that success is tied to urban areas and urban politics more than anything. I am not saying McDonalds is great, rather . . . that they are a corporation that exists in Illinois and influenced by the politics of the state. A corporation that exists in a pragmatic reality unaffected by right wing politics, and more centered on their own corporate interests.)
This article was posted on Thursday, July 17th, 2008 at 12:40 pm and is filed under
ABC
,
CBS
,
Chicago
,
Conservative Leaders
,
Corporate Promotion
,
Homosexual Meccas
,
Homosexual Pride Parades & Festivals
,
McDonald's
,
Media Promotion
,
Media's Liberal Bias (General)
,
News
,
The Bible, Churches, & Homosexuality
. You can follow any updates to this article through the
RSS 2.0
feed.