When Christians become quasi pro-"gay" activists…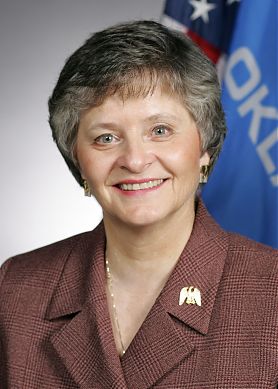 Grove City College prof Warren Throckmorton and Oklahoma State Rep. Sally Kern: is Throckmorton violating the Golden Rule by joining homosexual activists in unfairly attacking Kern and her motives? See this great testimony regarding Kern's character: "The Untold Story about Sally Kern."
Folks, we expect homosexual activists like Jeremy "Good As You" Hooper to take cheap shots at pro-family leaders like Oklahoma State Rep. Sally Kern (R) — but we don't expect the same from someone affiliated with a leading evangelical Christian College. Sadly, Grove City College psychology associate professor Warren Throckmorton is becoming a "gay"-affirming activist of sorts in his dubious quest for neutrality (as a Christian) on this divisive moral issue.
Warren has done some good work, e.g., debunking various "born gay" claims, but we're taken aback by his hostile postings against Christian conservatives like Sally who are more principled and outspoken than he in their opposition to homosexual activism. Later we'll examine a far more serious question: Throckmorton's "neutral" counseling approach toward homosexuals, which also has raised eyebrows at NARTH and among Christian pro-family observers.
Below is my response to Throckmorton's latest blog post about Sally Kern; also see THIS LINK for another Throckmorton blog post targeting Kern questioning her Christian love. —Peter LaBarbera
I wrote today:
Warren, I must say from your various blog posts on Oklahoma State Rep. Sally Kern that it looks like you're going out of your way to (publicly) pick on this fine woman (and fellow Christian) — who has been targeted for vilification by radical homosexual activists. Your comments are petty and mimic those of gay activists, who only wish her the worst. I ask you on behalf of [various pro-family advocates]: why?
— Peter LaBarbera, www.aftah.org; here's a wonderful testimony from ex-gay Chris Morrison that testifies to Sally's loving heart for people caught up in homosexuality: "The Untold Story about Sally Kern."

PS. I just spoke with Sally. What happened is that as she was coming to a meeting at the Capitol, she accidentally forgot to leave her concealed-carry pistol in the car as she entered the building. The alarm went off and she explained the mistake and then quickly put the gun back in her car. (Other Oklahoma lawmakers have made this same mistake.) Even though only two Capitol police actually saw this incident, somebody leaked it to the press to embarrass Sally. (But in Oklahoma it may only make her more popular — she could probably run for governor [and win] after the way over-the-top "gay" campaign against her.) This is a non-story that has been used by liberals to bash her. Note this AP story cited by Warren T. with its curious and skewed lead paragraph (see red part):

Kern stopped from bringing gun to Capitol
Associated Press – July 23, 2008 6:55 PM ET
OKLAHOMA CITY (AP) – An Oklahoma Highway Patrol trooper prevents a state representative known for an anti-gay rant from entering the Capitol today after a loaded hangun was found in her purse.
——————————————————————————–
Warren Throckmorton's latest blog post:
Posted: 23 Jul 2008 05:39 PM CDT
Why would you need a gun in your legislative office? [AP story]
Oh, now I get it… [Tulsa World story]
OKLAHOMA CITY – Outspoken state Rep. Sally Kern was turned back by security Wednesday morning when she arrived at the Capitol carrying a pistol in her purse.
Kern, R-Oklahoma City, was nearly as surprised as security when a camera spotted the small handgun when her purse rolled through the camera-equipped conveyer.
The lawmaker, who has a permit to carry a concealed weapon, said she routinely removes it before entering the Capitol, but just forgot this time.
Kern said she asked security if she "could put the gun up." She returned to her vehicle, left the weapon there, and returned to the Capitol for a meeting.
The lawmaker was not arrested.
Department of Public Safety spokesman Chris West said, "We tell security to use their heads," and assess this kind of situation before taking action.
This article was posted on Thursday, July 24th, 2008 at 1:58 pm and is filed under
A - What does the Bible say about homosexuality?
,
B - Ex-Homosexual Testimonies
,
Born that Way?
,
Christian Left
,
Health & Science
,
News
,
Oklahoma
,
Republican Party
,
Sally Kern
,
The Bible, Churches, & Homosexuality
. You can follow any updates to this article through the
RSS 2.0
feed.