Homosexual attacks boomeranged; "gay" incumbent statewide candidate Jim Roth loses despite heavily outspending pro-family opponent backed by Kern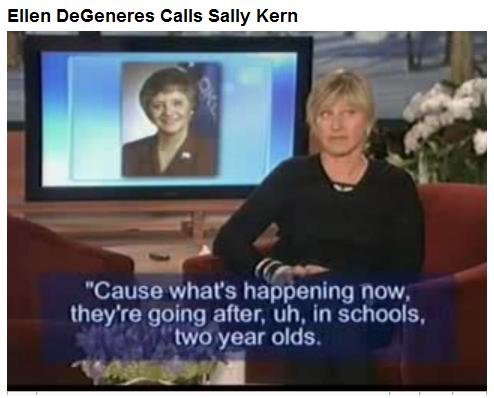 How many state representatives draw the attention of national TV talk show hosts? At left, Ellen DeGeneres rolls her eyes as she plays the (selectively edited) audiotape of Oklahoma state representative Sally Kern (R; pictured on the screen next to Ellen). Apparently Ellen is not aware that pro-"gay" educators have targeted very young students — even toddlers — with inappropriate, homosexuality-affirming messages. Despite the withering and often nasty "gay" web campaign against her, Kern easily won re-election in her district. Moreover, Kern helped another Republican candidate, Dana Murphy, oust Democrat Jim Roth, an incumbent and an open homosexual activist, for the statewide office of Corporation Commission. Murphy was vastly outspent by Roth, who was endorsed by the Gay and Lesbian Victory Fund — which launched the smear campaign against Kern. Click on graphic to enlarge.
_________________________________
By Peter LaBarbera
Oklahoma State Rep. Sally Kern (R) won re-election in a landslide, 58-42 percent, last week – overcoming a national smear campaign against her by homosexual militants and celebrities like Ellen DeGeneres who tried to paint her as an extremist – based on a secretly recorded speech in which she labeled "gay" activism a grave threat to America.
In another triumph over homosexual activism in red state Oklahoma, Kern's close ally, Republican Dana Murphy, defeated open homosexual Jim Roth (D) for Corporate Commission – an important statewide office. Roth, the incumbent, heavily outspent Murphy, and was endorsed by the Gay and Lesbian Victory Fund (GLVF) – which launched the demonization campaign against Kern and which encouraged out-of-state "gay" campaign donations to Roth.
In this heavily-watched race, GLVF hoped that Roth – already the first admitted homosexual to hold statewide office — would become the first such candidate to be elected statewide in Oklahoma. Instead, GLVF itself became a campaign issue that helped bring Roth down.
Read the rest of this article »