… This desperate: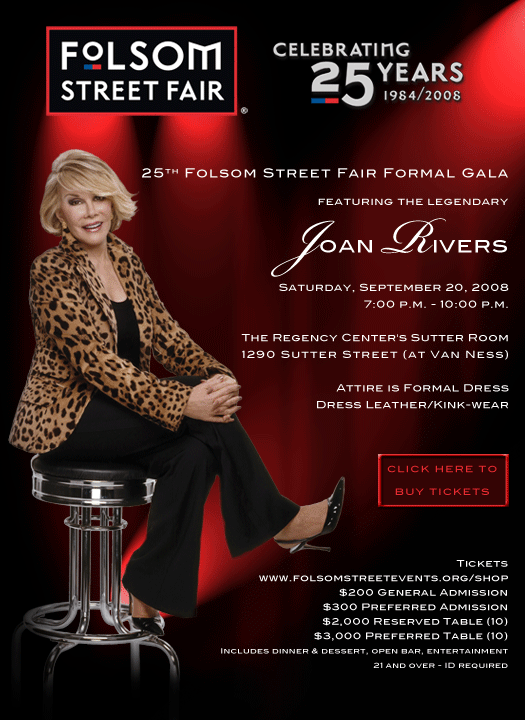 Joan Rivers is playing sadomasochist venues, helping celebrate 25 years of the Folsom Street Fair's open-air perversion in San Francisco, and raising money for Folsom "beneficiaries" like the Transgender Law Center. And how about this from the Folsom Street website for a dress code unique to Sodom-by-the-Bay:
"If you want to be fashionable, then start planning your outfit now because this event is formal. Appropriate attire includes formal wear, dress leather and high-fashion kink wear."
Can you imagine the conversation between leather partners Stephane and Jahn before the big event:

Stephane: "Hey, Jahn, what's the dress code for the Joan Rivers gala?"

Jahn: "I think it's dress leather or high-fashion kink-wear."

Stephane: "OK, I'm going with the rainbow-colored dog collar and leather hood with embroidered Leather Pride flag and those cool eye slots."

Jahn: "Fabulous. I'm going with the leather tux with matching whip and those crotchless chaps pants with that easy-entry butt flap. That way I don't have to change for the pig sex orgy afterward."

Stephane: "You are so smart. And if it's not too hot on Sunday, you can wear those to the Folsom Fair and maybe we could do it right in front of the police just for fun. We won't get arrested — that's for sure — and it really drives those fundies and Catholics nuts! Don't you just love San Francisco? And how cool are Nancy Pelosi and Mayor Newsom for supporting Folsom every year!"

Jahn: "Oh, I wouldn't live anywhere else. Who wants to live in one of those prudish cities where you they make you wear clothes in public and where you can't have sex in the streets?"

Stephane: "What's extra special is that we're even allowed to bring Thad and Chad, our three-year-old adopted twins, to come on Sunday to join in the fun! They just love to watch." [Children were photographed attending last year's sadistic Folsom Street Fair, at which hundreds of men walked around fully nude, and orgies between men occurred in the crowded streets as police stood idly by making no arrests.]

Jahn: "Thank the gods for the California Supreme Court and our new right to marriage equality. Now that we're married it will be so much easier to adopt our next child!"
This article was posted on Friday, August 22nd, 2008 at 12:52 pm and is filed under
"Civil Unions" & "Gay Marriage"
,
"Civil Unions" & "Gay Marriage"
,
BDSM
,
Gay Culture
,
Homosexual Pride Parades & Festivals
,
Jokes & Funnies
,
Leather
,
News
,
Public Sex in Your Neighborhood?
,
San Francisco
. You can follow any updates to this article through the
RSS 2.0
feed.