Cites "diversity" and "inclusion" to welcome event featuring full male public nudity and public homosexual orgies on city streets
WARNING: Obscene Graphic of the Sort that Could Only Emerge from San Francisco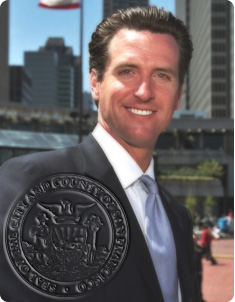 By Peter LaBarbera
Dear Readers,
The "mainstream" media have a double-standard when it comes to Republicans versus Democrats linked to radical fringe groups or events. Democratic ties to radical leftist groups like the National Gay and Lesbian Task Force, or libertine extremist events like the Folsom Street Fair in San Francisco, rarely garner huge media attention — while GOP ties to extremists often create scandal. Perhaps this imbalance in coverage is lessening a bit (e.g., Jeremiah Wright) now that there is a powerful TV network (FOX News) and "new" web-based media outlets that do not follow the Left's lead. Still, the liberal-left benefits tremendously from the media's non-coverage of their radical wing.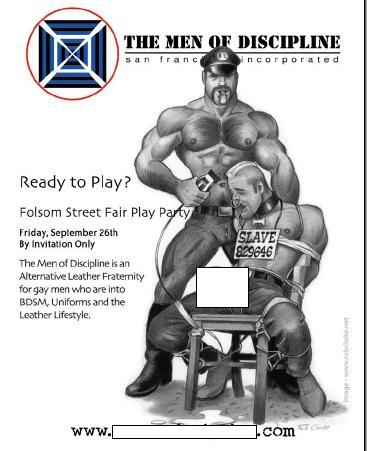 Below is full-page ad on page 60 of the Folsom Street Fair 2008 official "Program Guide" (nudity and website address covered up). Mayor Newsom's welcome letter to Folsom Street Fair participants is on page 16 of the same program (see below). It just doesn't get any sicker or more extreme than Folsom, so why don't Democratic politicians like San Francisco Mayor Gavin Newsom (top photo) fear being associated with this vile event, and why does House Speaker Nancy Pelosi (D-San Francisco) refuse to denounce it?
It would be hard to envision a more controversial event than the sadistic "leather" Folsom Street Fair — with its well-documented rampant public nudity and police-tolerated homosexual orgies on city streets — or so it would seem, anyway, if more Americans knew about it. The following welcome letter from San Francisco Mayor Gavin Newsom (D) appears in the newly-released official Folsom Street Fair "Official 2008 Program Guide." The "street fair" will be held in San Francisco on Sunday, September 28, and Americans for Truth, Mission America, American Family Association and other pro-family groups will be on hand to document the public indecency and officially "tolerated" filth.
The same Folsom Program Guide that contains effusive greetings from Mayor Newsom (below) and even more effusive greetings from homosexual California Assemblyman Mark Leno (D-San Francisco) is filled with the various graphic "leather" ads (see above example) and articles glorifying sadomasochistic perversions, such as salacious reviews for S&M homosexual porn videos. A link to the vile Folsom program — with the actual letter on Mayor Newsom's official stationery on page 16 — can be found (WARNING: VERY GRAPHIC AND PERVERSE) HERE. You can reach Mayor Gavin Newsom at [email protected] or (415)554-6141.
________________________
Office of the Mayor, City & County of San Francisco Gavin Newsom

GREETINGS FROM THE MAYOR

Dear Friends,

On behalf of the City and County of San Francisco, it is my pleasure to welcome you to the 25th Annual Folsom Street Fair on Sunday, September 28, 2008.

I am proud to be Mayor of a city that has a long-standing history of being on the forefront of extending civil rights for all citizens. San Francisco is a city that takes pride it its diverse communities and neighborhoods. The commitment to inclusion and ensuring diversity makes this a thriving city and a popular destination for many visitors from around the world. My office is committed to supporting and recognizing the exceptional contributions of all our diverse communities.

San Francisco is a city of scenic vistas and natural beauty. With a reputation for charming ambience, top-rated restaurants, a dynamic arts scene, diverse shopping and friendly people, it's no wonder that San Francisco is "Everybody's Favorite City." Our unrivaled attractions ensure that San Francisco has something for everyone.

To all organizers and attendees of the Folsom Street Fair, their families, friends, colleagues, and visitors from home and around the world, have a great day and enjoy the event.

With warmest regards,

Gavin Newsom

Mayor

1 Dr. Carlton B. Goodlett Place
Room 200
San Francisco, California 94102-4641
[email protected]
(415)554-6141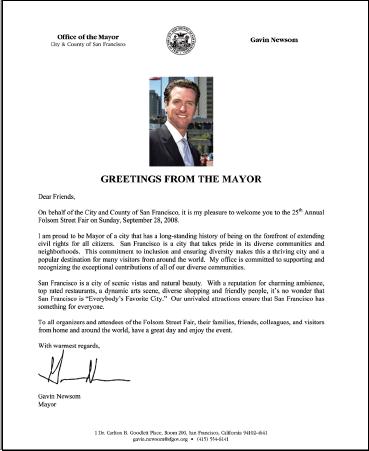 Gavin Newsom's "Greetings from the Mayor" letter as it appears on page 16 of the Folsom Street Fair's depraved "Official 2008 Program Guide."
This article was posted on Tuesday, August 26th, 2008 at 2:22 pm and is filed under
Candidates & Elected Officials
,
Current State Law
,
Democrat Party
,
Gay Rights vs. Others' Rights
,
Government Promotion
,
Homosexual Pornography & Film Festivals
,
Homosexual Pride Parades & Festivals
,
Leather
,
Media Promotion
,
Media's Liberal Bias (General)
,
News
,
Not with MY Tax money!
,
Public Indecency
,
Public Sex in Your Neighborhood?
,
San Francisco
,
Sexual Revolution
,
Task Force
. You can follow any updates to this article through the
RSS 2.0
feed.